Splento - Celebrating Awin launch with 10% commission during September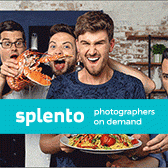 Splento is the most flexible affiliate opportunity in Awin. It is an on-demand photography service available from only 3h after booking. Everybody can book a photographer at an affordable fixed price having their photos professionally retouched within 48h or less.
Perfectly adaptable for every audience: from any type of personal or professional events - from birthdays and weddings to conferences and trade shows; any professional need like food and product photography or for the Instagram generation - your own photo session as a gift or for yourself.
Any publisher who joins the program during September:
» will get a promotional 10% commission (Our average basket size is £126)
» we can prepare custom creatives to best appeal to each audience and fit your site
» we can offer enticing extras to your readers
We are excited to partner with you. Contact us with any ideas you have and let's do business together at affiliates@splento.com