---
Special Offers This June At ESE Direct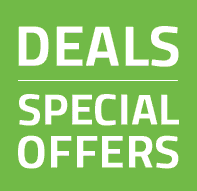 Get Great Deals & Special Offers At ESE Direct
Click here to find out more
Reinforced design nestable 'A' frame
Four sided with 50 x 50mm mesh infill to sides
19.A118 has a two piece stable door
19.A117 has a single opening door
Fitted with two fixed and two swivel 125mm diameter nylon castors
New design with recessed bolts
Overall dimensions 1690H x 735W x 850D mm
600kg capacity
Blank ID plates to front, back and trombone sides
Was £139.54
Now £125.59
Save £13.95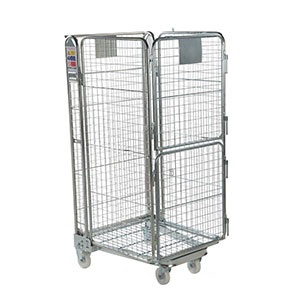 The additional storage capacity of jumbo roll containers make these ideal for transporting bulk items
Euro standard base 1200 x 800mm
Bright zinc electroplated finish wire framework and base
500kg maximum load capacity
100mm wide rod mesh sides
Use 3-sided with optional shelves for mobile storage applications
Shelves not included - Optional shelves available to purchase separately
125mm nylon castors (2 fixed, 2 swivel)
Was £146.70
Now £132.03
Save £14.67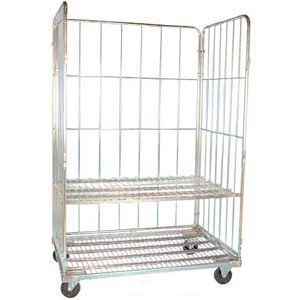 600kg capacity
3 or 4 sides, along with an enclosed option
Quick-folding for easier storage
Rust-resistant coating
1425mm tall on the inside
Fitted with two fixed and two swivel 125mm diameter nylon castors
Optional shelves available for 3 and 4-sided units
Fixed hinged shelf on the enclosed model
Please note cages have 2 shelf max capacity, 1/3 and 2/3 height
Was £118.72
Now £106.86
Save £11.86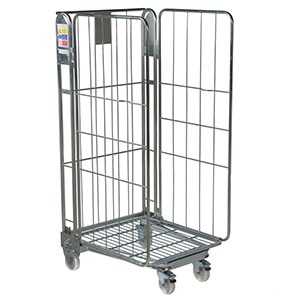 Four sided jumbo nestable roll pallet with wardrobe doors to one long side
Rod infill base fitted with two swivel and two swivel braked 125mm nylon castors
Bright zinc plate finish
Overall dimensions 1770H x 1120W x 765D mm
50 x 50mm square mesh sides
600kg capacity
Was £188.67
Now £169.80
Save £18.87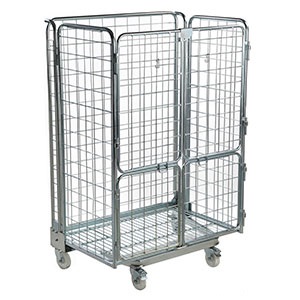 Complete with 1 half height hinged shelf
Document plate fitted to the gate
3 sided 'Z' base with 100 x 100 x 3.8mm mesh infill to sides and gate
Supplied with rubber castors - 2 fixed & 2 swivel braked - 125mm
Dimensions H x W x D: 1860 x 475 x 832mm
Was £153.95
Now £138.56
Save £15.39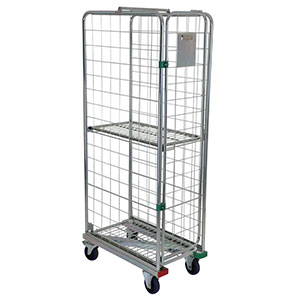 Robust steel construction with 1 door.
Standard grey carcass with a choice of bright colored door. Choose either blue, red or light grey
Base size of 1800mm x 300mm for height and width.
Depth is available for 300mm or 450mm.
Key lock or swivel catch locking options.
Anti-bacterial powder coated.
Louvred doors for proper ventilation.
Lockers have fixing holes to secure to each other or the wall.
Master keys can be availed on request.
Provided with hanging rail and hook for garments.
Replacement keys are not available, so a barrel and 2 new keys may be purchased.
Sloping tops & locker stands can also be purchased.
Was £54.09
Now £48.51
Save £5.58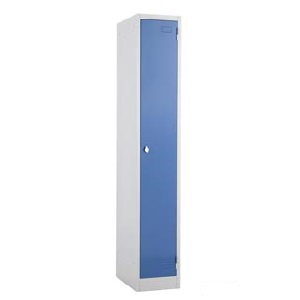 Steel body in grey color
6 doors with corner stiffeners
Doors available in a choice of colors like red, blue and light grey
Size available as height 1800mm, width 300mm, depth 300mm or 450mm
Locking option available as key lock or swivel catch with padlock (padlock to be purchased extra)
Anti-bacterial powder coated finish
Louvred doors designed for proper ventilation
Master keys are available on request
Replacement keys are not available, a barrel and 2 new keys can be purchased
Sloping tops & locker stands can also be purchased
Was £100.39
Now £85.32
Save £15.07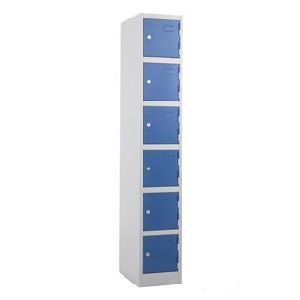 Perforated doors for ventilation and visibility
Double socket in each compartment
230V RCD protected plugs
6 separate compartments with individual cam locks
Locks are serial numbered should replacement keys be needed
Made by Armorgard, with a robust steel construction
Finished with an anti-bacterial epoxy powder coated red finish
Was £779.66
Now £701.70
Save £77.96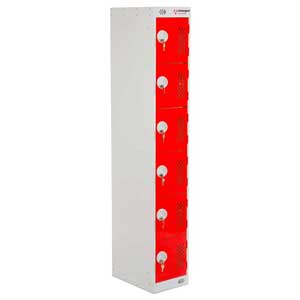 Standard grey body, ideal for use in workplaces
Ample space for storage of things
Strong steel construction
4 doors storage unit
Louvred doors for proper ventilation
Option of red, blue or light grey colours for doors
Height 1800mm, width 300mm, depth 300mm or 450mm
Body coated in anti-bacterial powder finish
Strong locking options with key lock or swivel catch Master keys available on request
Replacement keys are not available, but a barrel and 2 new keys may be purchased
Sloping tops & locker stands can also be purchased
Was £84.96
Now £76.45
Save £8.51