---
Special Offers From Serenata Flowers
Flower prices go up and down; as a large buyer of flower we can offer you some bargain prices. We never compromise on quality and freshness which is the hallmark of the flowers that we deliver, but we do haggle on prices with our suppliers, keeping your interests at heart. Cheaper, fresher, better flowers than anywhere else online.
Like a rainbow in bouquet form, this brilliantly bright and bold floral collection is fantastically mesmerising. The brilliant yellow Lilies contrast amazingly with blue scented Freesias, hot pink and kermit green Chrysanthemums and audacious orange Roses. A super bouquet, guaranteed to cheer anyone's day.
Was £24.99
Now £19.99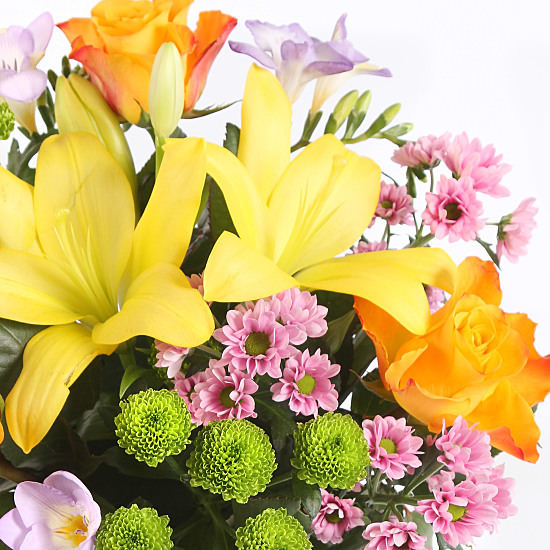 Undeniably exciting and weirdly enticing! These Dyed, pigmented electric blue galaxy Dendrobium orchids not only make an incredibly unusual gift, they also make a superb talking point for any Dinner party! Step into a world of wonderful with these unique blooms.
Was £26.99
Now £19.99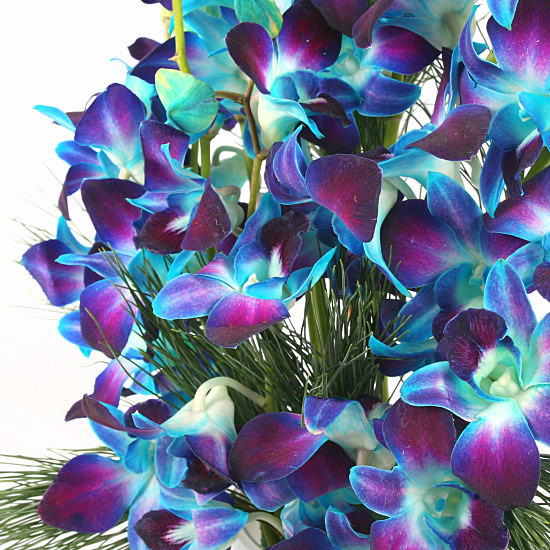 Laying in the sun, gazing up at the summer sky, beautiful blues and fluffy white clouds, the scents of lily and freesia on the breeze. You can have all that with this fabulous bouquet, except the sun... sorry, we try to please but we can't do magic!
Was £34.99
Now £29.99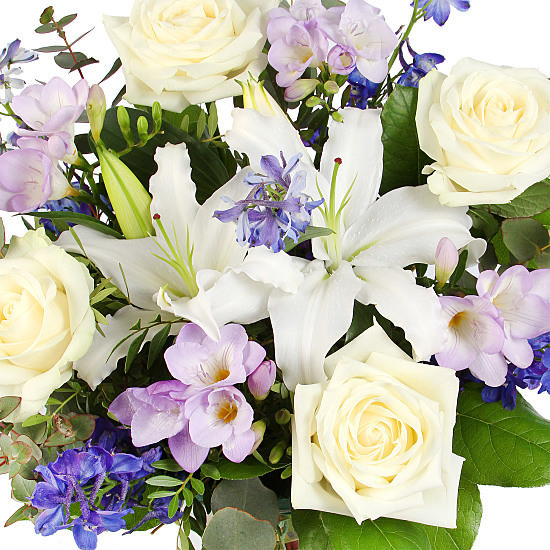 The relaxing serenity of pure white blooms create a glorious sense of peace. The delicate fragrances of Freesia, luxury Roses, Lisianthus, Oriental Lily and Waxflower create an ambience that even the UN would be proud of.
Was £39.99
Now £29.99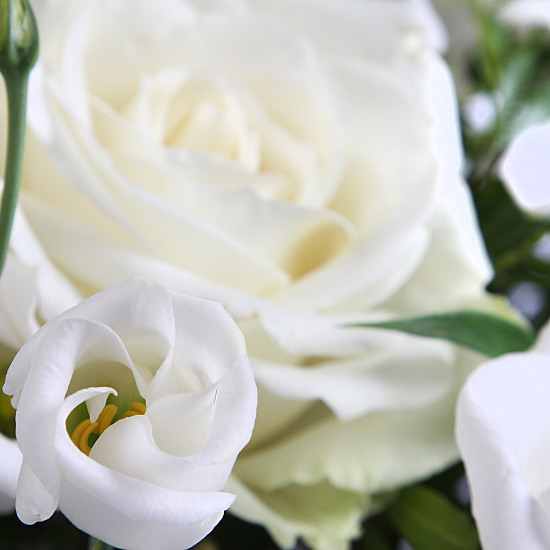 Take a moonlight stroll down twilit lanes while silvery starlight dances on lavender freesia and the petals of white roses.
Was £24.99
Now £19.99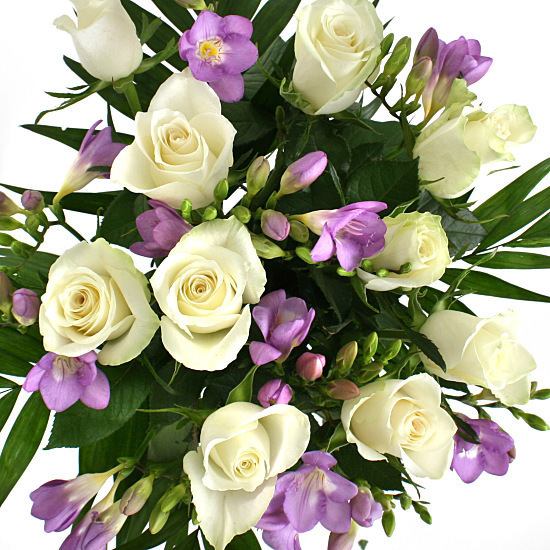 Garland your love in waves of exotic dendrobium orchids washed up on the shores of tropical romance.
Was £26.99
Now £19.99

Elegance and sophistication are entwined together in perfect harmony with these sublime luxury roses in delicate pastel shades. The perfect gift for the irresistibly romantic amongst us.
Was £39.99
Now £34.99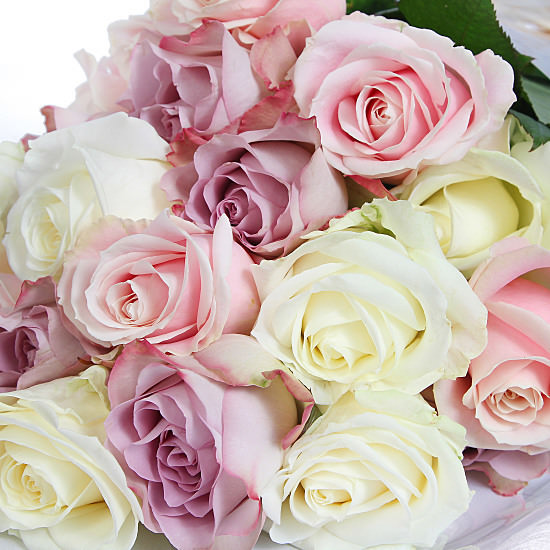 A blast of bright lemon yellow Roses and scented lavender presented in a gorgeous emerald green glass cube.
Was £34.99
Now £29.99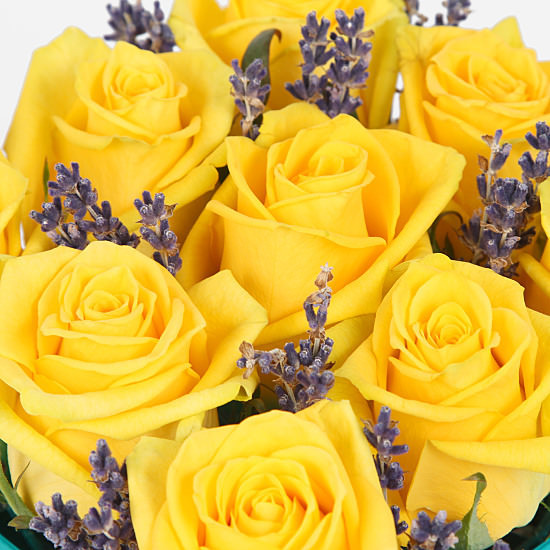 Is there a recipe for the perfect smile? We think our researchers have come pretty close: take a handful of precious pink gerbera daisies, stir in a dash of alstromeria blooms, add a sprinkling of daisy and finish with a swirl of roses. (Note: The real secret of this smile is that you'll be sure to get one in return!)
Was £34.99
Now £29.99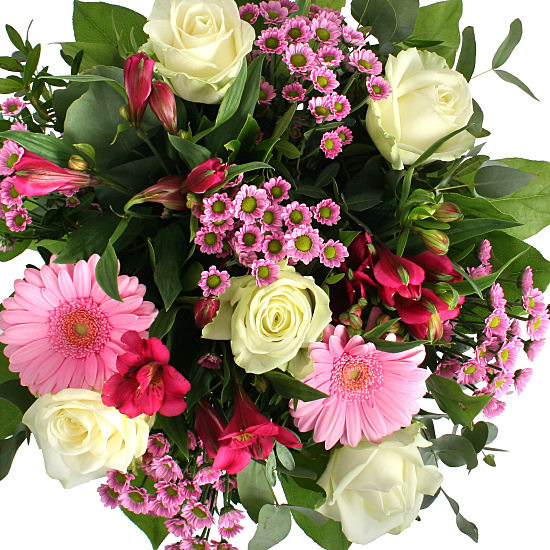 Innocent white blooms represent a love so pure that it burns like white fire in the soul. Beautiful Roses, delicate Gypsophila, exquisite Lisianthus and wonderfully scented Freesia are arranged together in perfect harmony and presented in a stylish gift bag.
Was £34.99
Now £29.99