Sitewide Offers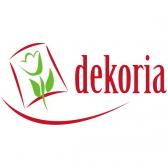 Hello,
Christmas atmosphere is in the air and we have a couple of fantastic sitewide offers to help our customers make the most of their homes during everyone's favourite time of the year.
Over 40,000 curtains, blinds, furniture covers and table linen we offer in our online shop will inspire customers to create cosy homes and decorate for Christmas, no matter what style, colour schemes and budget they are after.
FREE guaranteed Christmas delivery on home & furniture
In  a rush? We offer Guaranteed Christmas Delivery at NO EXTRA COST across ALL standard and bespoke products  (including furniture covers, curtains, blinds, table linen and more) ordered on https://www.dekoria.co.uk before 30th November.
£50 Voucher on all home textiles & decor (over 40,000 products)
We also have a £50 voucher valid on ALL orders over £500 placed in November. A helpful way to make updating home for festive family gatherings and visits or decorating for Christmas more affordable.
Voucher code: XMAS50
Expiry date: 11:59pm on 30th Nov 2018
We wish you a fantastic month and as always we look forward to hearing from Publishers with any questions. Please get in touch in ali@dekoria.co.uk
Best regards,
Dekoria Team
Tags: Christmas, christmas gifts, discount, discount code, discount codes, discounts, gift, gifts, home, offer, offers, presents, promotion, promotions, savings, special offers, voucher, voucher code, voucher codes