---
Shop Our Wide Range of Gadgets At Advanced MP3
Come check out the wide range of gadgets we have available here at Advanced MP3.
Click here to find out more.
Built and finished to the highest standards, the Teac TN300 appeals to the discerning vinyl fan. Like all the best turntables, the Teac TN300 puts engineering quality above bells and whistles. Starting with the chassis, solid MDF construction is used for mass damping and reduced distortion. The belt driven, die-cast aluminium platter is also of audiophile quality and is connected to a stainless steel spindle with a bronze housing, giving low resistance and high durability. A high-torque motor offers stable and consistent speed for a solid and dynamic sound.
Now £299.00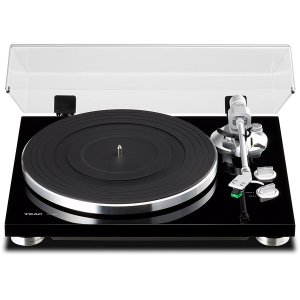 With its quality construction, the Teac TN-100 puts music first. For the best sound quality and the least distortion, the Teac TN-100 uses a wooden plinth. This dampens vibrations far better than the plastic used by most rivals, giving a more accurate sound. With a high torque DC motor driving the platter, the Teac TN-100 delivers excellent speed stability, giving you pitch perfect music. This is further maintained by the polished stainless steel spindle with durable bronze housing.
Now £150.00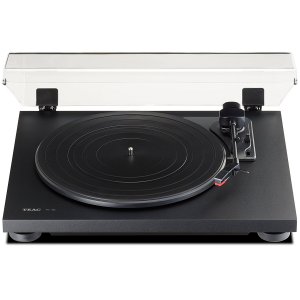 A perfect balance of technology and design, the sleek contemporary lines of the AT-LP5 turntable grace any room in the home while delivering performance features born out of Audio-Technica's rich analog heritage. The original J-shaped tonearm, engineered to minimise tracking error, harks back to the original Audio-Technica designs of the 1960's and 70's, complementing the AT-LP5's clean lines and minimal design and comes fitted with Audio-Technica's lightweight AT-HS10 headshell and the exclusive AT95Ex Dual Moving Magnet cartridge.
Now £349.00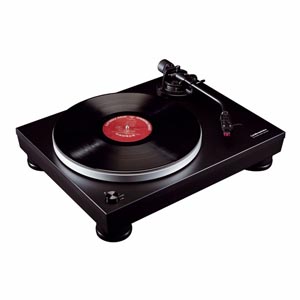 The DragonFly Red uses the highest quality DAC (Digital to Analogue Convertor) ever used in a DragonFly, giving true audiophile sound quality. The 32-bit ESS 9016 chip is more usually found in high-end hi-fi equipment and boasts an astonishing signal to noise ratio, making it sound more precise and detailed than the DragonFly Black. Rather than using the Black's analogue volume control, it also deploys bit-perfect, digital volume. This reduces distortion still further, delivering an 'inky' black silence when the music demands.
Now £169.00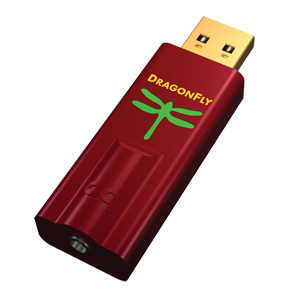 Enjoy a limitless universe of high definition digital music through your existing Hi-Fi audio system. bluMe streams the highest quality audio wirelessly from your Bluetooth enabled device to any music system or powered speakers.
It's a true high fidelity component that uses high-end aptX / AAC audio streaming codecs and audiophile grade DAC to unleash all the clarity, crispness and full emotional impact your Hi-Fi stereo system can deliver. Unlike standard Bluetooth receivers, bluMe provides ultimate wireless freedom with the longest wireless range.
Now £149.00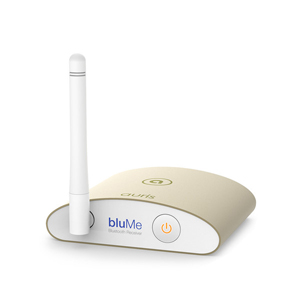 The AudioQuest Beetle sits in the palm of the hand and the aesthetics are a long way from that of real life Beetle. While there are plenty of USB DACs out there, the Beetle is special in that it also offers Bluetooth and optical inputs. Power comes from either the host computer's USB port or the linear power supply that ships inside the box meaning you can use it with devices that don't have a USB output.There are 3 input option on the Beetle:
USB (up to 24bit/96kHz)
Toslink (up to 24bit/96kHz)
Asynchronous Bluetooth
The D/A conversion is exacted by an ESS 9010 and of the three filters on the chip, AudioQuest have opted for minimum phase.
Now £159.00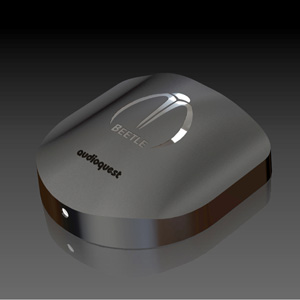 The AMP3 Luxury Glass Skull Headphones Stand is a stylish yet scary headphone stand which will stop you losing your headphones, because if you're not wearing them then your new buddy should have them nestling over his little glass ear holes.
Available in a range of colours that should mean you can match your stand to your headphones. These are a seriously cool addition to any room.
Now £24.50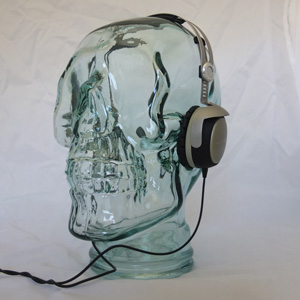 The AK500N is the first desktop network audio product from Astell & Kern that truly combines advanced digital technology with analog sound. The AK500N is the culmination of the experience and know-how accumulated from work on the AK series including the AK240.
One-click CD-ripping and perfect noise isolation through battery-only operation. PCM to DSD conversion faithful to the original sound and excellent compatibility with a wide range of devices. Easy DLNA-based networking and high-reliability SSD.
For the AK500N, no detail was overlooked from planning to development to delivery of sound that is true to the original source.
Now £8,999.00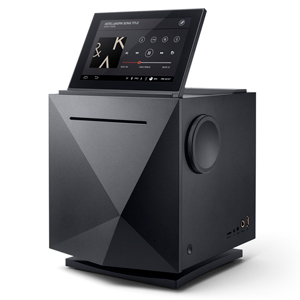 iAudio 9+ is the latest version of the Cowon 'iAudio' series which have gained fame for excellent sound quality and portability. Matching the reputation of the series, its forty eight presets make it possible to choose and control the sound output to match your requirements. The player comes with 'JetEffect 5', providing the world-famous 'BBE+' and an excellent sense of space, to present you with a differentiated music-listening environment.
Now £129.00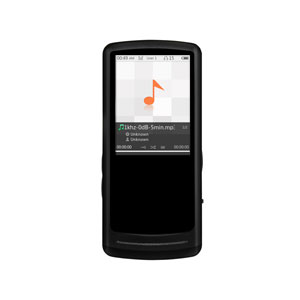 The ACS Pro series hearing protection ear plugs are the pinacle of earplug technology. allowing you to hear what you need to hear at a safe volume in comfort.
Custom made for your ears.
40 Shore Silicone with SteriTouch.
Various colour options, Standard Clear.
Now £139.00