---
Shop Our Men's Marvel Sock's At SockShop
Celebrate the release of Avengers: Infinity War with our range of Marvel Sock's at SockShop
Don't Forget You Can Get Free UK Standard Delivery When You Spend £30 Or More
Click here to find out more
Despite being around in comics since the early 1960s, until very recently, Thor and Loki were better known to students of mythology than the general public, but now that they are both leads in the Marvel movies, these Norse gods have captured everyone's imagination.
Our SockShop Marvel Thor and Loki Cotton Socks take classic comic images of the two characters and use them in a triple pack of colourful, cotton rich quality everyday socks. Socks fit for the gods themselves!
(08/14)
Now £6.99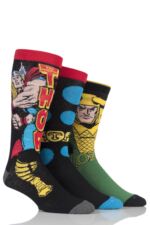 The uncanny X-Men are in vogue once more with some huge blockbusters of late, with prequel films First Class, Days of Future Past and Apocalypse and the brilliant Logan sparking even more love for the mighty mutants. This set of four pairs of Kids' SockShop Marvel X-Men Wolverine, Beast, Cyclops and Colossus Cotton Socks celebrates the comic roots with a quartet of some the most popular characters from their 40+ years history.
The cotton rich socks feature classic images directly from the X-Men comics by some of the artists most closely associated with them and will wow any comics fan. This selection is also available in smaller kids sizes too.
(08/14)
Now £8.99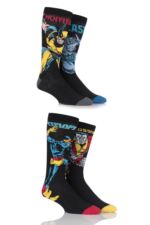 Bright, colourful and instantly recognisable, Captain America is one of the world's most iconic superhero characters, and now he's also the star of this triple pack of Kids SockShop Marvel Captain America Mix Cotton Socks.
These colourful, cotton rich socks include two classic Captain America portraits on stripe-pattern socks, along with a stylish all-over shield design, and each pair is finished with contrasting toes, heel and tops. Adult comic fans needn't feel left out, as men's sizes are also available.
(08/14)
Now £5.99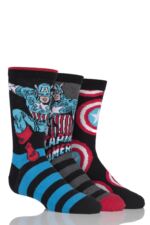 Ladies, these socks will immediately turn your man into Chris Hemsworth (individual results may vary)! The perfect gift for the gentleman comic geek in your life, SockShop Marvel Thor Cape Cotton Socks mimic the classic Marvel superhero outfit, even including the cape, on a pair of cotton rich fully woven socks.
Now £5.99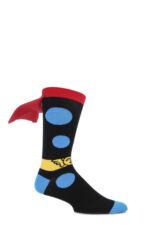 One of the world's best known superhero characters, Spider-Man recently returned to cinema screens in another big budget movie, and now he's crawling all over our Mens' SockShop Marvel the Amazing Spiderman Cotton Socks!
The web-slinger himself features on two pairs of cotton rich socks, one showing an example of the most classic Spider-Man comic images, and a second pair featuring an all-over Spider-Symbol design. This three pack also includes Spider-Man's adversaries Doctor Octopus. These full colour designs include contrast toes and heels, along with elasticated tops.
Now £6.99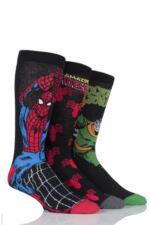 For the man who has a slightly evil side (in a world-dominating, criminal mastermind way), these SockShop Marvel Villains Cotton Socks will hopefully fulfil and replace his need to create inescapable traps, menace helpless sidekicks and announce his evil plans immediately before being captured!
Now £6.99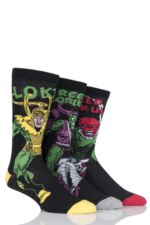 A simply Marvel-ous way to get your man to change socks regularly, each of the four pairs or single of socks in our SockShop Marvel Comics mixed pack or single packs of socks feature classic artwork from the comics themselves, with full colour, detailed woven images of the likes of Avengers past and present, including The Hulk, Spider-Man, Iron Man and Wolverine.
From £3.99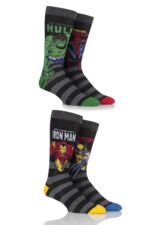 A simple Awesome mix of four character designs on a range of colour legs, make some space in your sock collection for our Marvel-lous SockShop Guardians of the Galaxy Groot, Rocket, Star-Lord and Drax Cotton Socks.
Now £8.99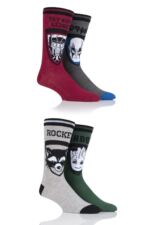 The shield-slinging patriotic personification of all things USA, Captain America is one of the leading lights of marvel Comics and their movie franchises. So for fans of the WW2 living legend, these Men's 3 Pair SockShop Marvel Captain America Mix Cotton Socks will be a must-buy!
Now £6.99