Shop in Style this Holiday with Curvissa

Escaping the winter weather this season? Make sure you are fully prepared for the sun and get shopping for style with Curvissa. And now – for one week only – receive 10% off our entire range of holiday fashion at Curvissa!
With stunning swimwear, tops, leggings and more, Curvissa covers all your holiday needs with our range of plus size essentials to ensure you look fantastic every day on your holiday! Plus, with our spring/summer range now available and our on-going 20% off all first orders offer*, shopping has never been better!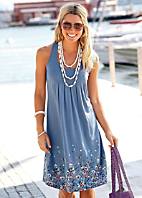 To redeem 10% off all clothing and accessories from our 'holiday shop' range, simply quote PA5P between 12th- 19th April and fill your suitcase with head turning style this holiday!
Terms and conditions apply. Visit here for more information.
*please note that 10% of all holiday wear cannot be used in conjunction with the 20% first order discount.
Not yet a part of the Curvissa affiliate program…you're missing out on our 15% commission rate! Be sure to check out our profile on Affiliate Window
Alternatively, contact us direct at Curvissa.promotions@orangecanyon.co.uk
Tags: holiday fashion, plus size, plus size cheap dresses, Plus Size Clothing, plus size fashion, womenswear