---
Save Up To 50% On Travel Products At Chemist Direct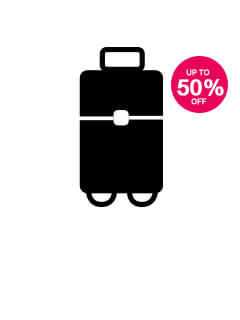 Save up to 50% on Travel Products at Chemist Direct.
Offer expires - Midnight 31.01.20.
Click here to find out more.
Rehydrate and nourish with Garnier Ambre Solaire Aftersun Tissue Mask.
Was £17.50 Now £8.75

Calypso Facial Sun Cream is a convenient, handbag-size face sunscreen. It not only protects your face from the sun, but it also restores moisture to your skin. This water-resistant, non-greasy cream contains UVA and UVB sun-screening agents to protect the delicate skin on your face.
Was £2.49 Now £1.25

Malibu Continuous Lotion SPF30 Aerosol Spray helps protect against sunburn and long-term UV-induced skin damage. It offers high protection that is ideal for sun sensitive skin that burns easily.
Was £5.99 Now £3.00

Numark Family Strength Insect Repellent Spray is a Deet Free repellent for all the family.
Was £3.39 Now £1.70

Malibu Protective Lotion SPF20 helps protect against sunburn and long-term UV-induced skin damage. It offers medium protection for skin that tans more slowly and tends to burn.
Was £3.99 Now £2.00

Garnier Ambre Solaire Moisturising Protection Spray SPF20 gives your skin the perfect balance of moisturising care along with UVA/UVB protection. Its non-sticky, non-greasy formula easily absorbs, leaving your skin feeling moisturized and protected.
Was £8.99 Now £4.50

Calypso Cooling Effect After Sun Gel contains menthol to take the heat from your skin, and anti-irritant Iricalmin to give rapid pain relief. The gel soothes and moisturises the skin to prolong your tan.
Was £3.99 Now £2.00

Calypso Kids Coloured Sun Protection Lotion provides broad-spectrum UV protection to protect and care for young delicate skin. Its blue colour will disappear when rubbed into the skin, ensuring even coverage.
Was £1.95 Now £0.98

Sun-Sea Hair Protection keeps your hair safe from the sun, chlorine and dehydration. This specially formulated sun hair protection cream contains UV filters to protect your hair from sunlight and reduce colour fading, as well as Argan Oil to rehydrate your hair.
Was £2.99 Now £1.50

Malibu Aftersun Spray is designed to cool and hydrate your sun drenched skin and lock in tan. Easy to apply in a handy spray bottle.
Was £3.49 Now £1.75