---
Save Up To 50% On Deodorants at Chemist Direct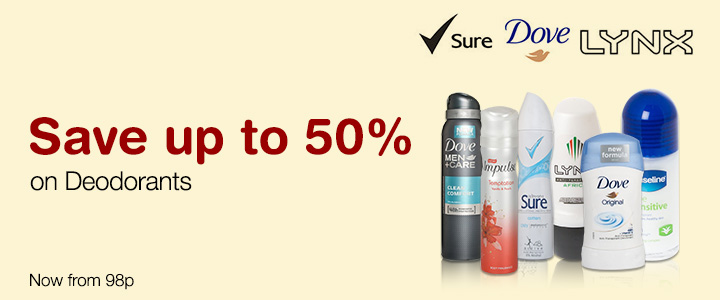 Save Up To 50% On Deodorants at Chemist Direct.
Now From Only 96p.
Dove Deodorant Cream Original is designed to effectively nourish to help make a lasting difference to the health and beauty of your skin.
Was £2.69
Now £1.78
Save £0.91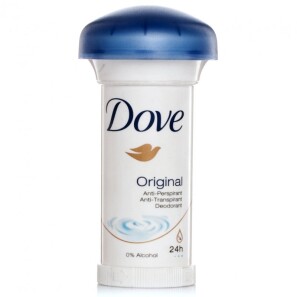 Brut Oceans Deodorant has a revitalizing ocean fragrance which lasts up to 24 hours. The powerful marine notes give the product a classic elegance.
Was £2.15
Now £1.51
Save £0.64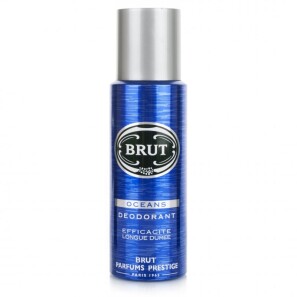 Brut Original Deodorant has a refined masculine fragrance with hints of spicy, lavender and amber. It also has a blend of citrus top notes to give you a refreshed feeling.
Was £2.15
Now £1.51
Save £0.64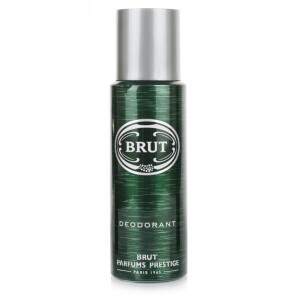 Vaseline Intensive Care Roll-On Aloe Sensitive is clinically proven to help you stay ultra dry, with 24-hour protection. It now comes with the added reassurance of Aloe Vera.
Was £1.49
Now £0.98
Save £0.51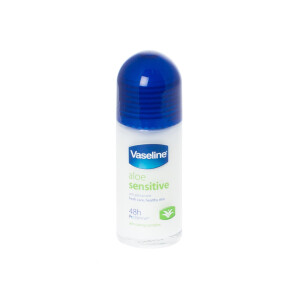 Brut Musk Deodorant - Stop odour with Brut Deodorant's powerful antibacterial action. It kills the germs that cause odour on contact and keeps protecting against odour for up to 24 hours. All with the timeless power of the classic musk fragrance.
Was £2.15
Now £1.51
Save £0.64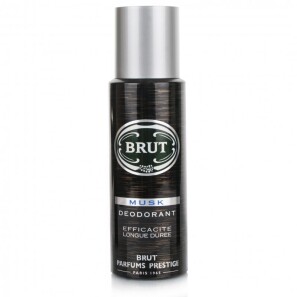 Dove Invisible Anti-Perspirant Deodorant is designed to be invisible and therefore creates fewer white marks yet provides beautiful results. This anti-perspirant for women contains a patented combination of translucent anti-perspirant ingredients that help protect against white marks while delivering the protection and light fresh fragrance you expect from Dove. Dove Invisible Anti-Perspirant Deodorant is alcohol-free and provides 48 hours of protection.
Was £3.79
Now £1.90
Save £1.89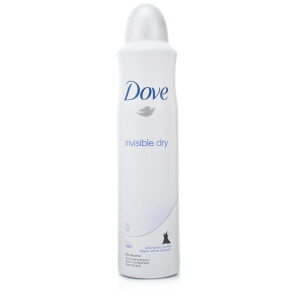 Brut Anti-Perspirant Spray - Designed to give effective and long lasting deodorant protection, this spray has the fresh and distinctive fragrance of original Brut.
Was £2.99
Now £2.09
Save £0.90

Dove Silk Dry Anti-Perspirant Deodorant Roll-On is the all-day protection that keeps embarrassing sweat patches and bad odours away. It combines pure silk extracts with the unique Dove fragrance to soothe your skin and leave you smelling fresh. Try Dove Silk today and you'll have the confidence and comfort to make the day your own.
Was £2.49
Now £1.25
Save £1.24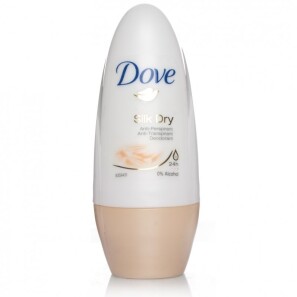 Dove Men Care Clean Comfort Deodorant Roll-On protects against sweat and body odour for up to 48 hours, keeping you feeling fresh for longer. The non-irritant formula is tough on sweat, but gentle on your skin.
Was £2.49
Now £1.25
Save £1.24