Save Up To 25% Off Durex Products at Chemist Direct
---
Save Up To 25% Off Durex Products at Chemist Direct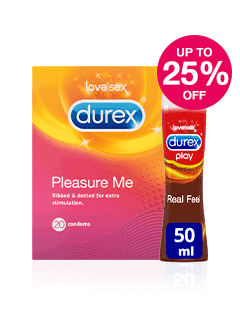 Save up to 25% off Durex Products at Chemist Direct.
Offer expires - Midnight 30.04.20.
Click here to find out more.
Light silky lube to provide a sensual experience. Safe to use with condoms.
Our Price £4.89

Durex Extended Pleasure Condoms are designed with unique lubrication that lengthens sexual performance, while providing maximum protection. It is easy on shaped and teat ended for comfort and fit.
Our Price £9.99

Durex Intimate Feel Condoms are designed for extra closeness and passion. With its extra fine latex and extra lubrication, it aims to heighten sensitivity and increase pleasure.
Our Price £11.99

Durex Intense Orgasmic Gel is specially designed for women to help intensify orgasmic pleasure.
Was £9.99 Now £7.99

Durex Play Tingling Lubricant Gel creates a pleasurable, tingling sensation wherever you put it. It is long lasting and so silky it can be used all over the body.
Our Price £4.89

Durex Mutual Climax Condoms are designed with ribs and dots to add enhanced stimulation for you both, helping towards a mutual climax. The textured outer designs helps speed her up, while benzocaine lube on the inside helps slow him down.
Our Price £14.99

Discover Durex Play Soothing 2 in 1 Massage Gel. The smoothing massage gel and lubricant contains skin gentle Aloe Vera for an intimate experience. Suitable for vaginal, anal and oral sex. Is not a contraceptive and does not contain spermicide. Suitable to use with condoms.
Was £7.99 Now £5.99

Durex Pleasure Me Condoms are designed with uniquely positioned ribs and raised dots that enhance stimulation for you and your partner. The ribs are placed at the bottom of the condom for increased stimulation.
Our Price £9.99

Whether you're looking to spice things up, or reduce discomfort, Durex Sensilube Intimate Moisturising Gel provides the best of both worlds.
Our Price £6.89

Durex Extra Safe Condoms have a thicker design to provide you with extra peace of mind while you focus on what matters.
Our Price £9.99