Save Up To 20% on Eye Health Products at Chemist Direct
---
Save Up To 20% on Eye Health Products at Chemist Direct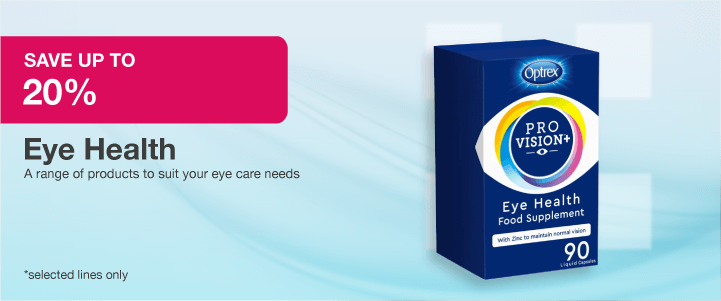 Save Up To 20% on Eye Health Products at Chemist Direct.
Check out the wide range of products to suit all your eye care needs.
Selected lines only.
Click here to find out more.
Murine Irritation & Redness relief provides pharmacy strength relief for sore, irritated and red eyes'fast.
Was £3.15 Now £2.68
Hypromellose 0.3% Eye Drops - For Dry Eyes are also known as 'artificial tears'and are used in the eye to relieve dryness and irritation caused by a reduced flow of tears.
Was £2.99 Now £2.39

Viscotears can be used as a substitute for natural tears to help people who suffer from dry eyes.
Was £3.80 Now £3.04

Blink Intensive Tears Plus are an advanced lubricating eye drops specifically formulated to provide protection and comfort for eyes that are dry, irritated or uncomfortable.
Was £5.99 Now £4.79

A sterile, preservative free, liquid parafin based vitamin A eye ointment.
Was £5.99 Now £5.09

Bausch & Lomb Sensitive Eyes Saline Solution is a rinsing solution for use after cleaning contact lenses.
Was £4.29 Now £3.43

Clinitas Soothe is a natural, preservative-free eye drop in easy to use single containers.
Was £6.75 Now £5.40

A cleaning pack to ensure you can keep your contact lenses clean and sanitised whilst you are flying.
Was £4.99 Now £4.24

Clinitas Hydrate is a high performance liquid gel drop that rapidly spreads across the cornea to reduce friction and provide lubrication.
Was £11.61 Now £9.29

A lubricating eye ointment for the relief of night-time dry eye sensations.
Was £7.50 Now £6.38