Save Up To 1/3 On Winter Essentials at Chemist Direct
---
Save Up To 1/3 On Winter Essentials at Chemist Direct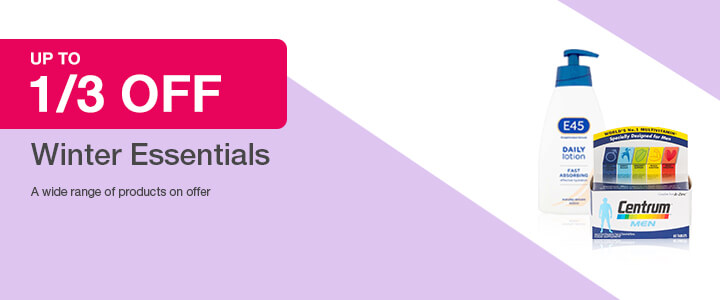 Save Up To 1/3 On Winter Essentials at Chemist Direct.
Offer expires - Midnight 31.12.19.
Click here to find out more.
Schwarzkopf got2b GIued Blasting Freeze Spray is inspired by street styles and designed by stylists. Its got to be got2b! This strong hold hair spray lets your hair freeze until the next shampoo. For high class styles only!
Was £3.99 Now £2.66

This revolutionary, weightless formula texturises each hair strand to create maximum volume at the roots, in an instant! Break the rules andadd volume to your style.
Was £4.07 Now £2.71

Give your hair serious body and volume that lasts with this voluminsing mousse.
Was £4.07 Now £2.71

Get tousled, textured hair that looks like you just stepped off the beach, all year round, with this salt spray.
Was £4.07 Now £2.71

Get timeless stlye that lasts with this finishing hairspray for men.
Was £4.07 Now £2.71

Clinically proven relief and daily protection for sensitive teeth
Was £4.99 Now £3.33

Sensodyne Pronamel helps protect against the effects of acid wear and re-harden enamel.
Was £3.29 Now £2.19

Sensodyne Pronamel Toothpaste Children is developed with dentists to help protect children's teeth from Acid Wear. New permanent and milk teeth can be vulnerable as acids can weaken enamel, allowing it to be slowly worn away.
Was £1.99 Now £1.33

Sensodyne Cool Mint Mouthwash provides long lasting protection for sensitive teeth when used twice daily after brushing with a fluoride toothpaste. With twice daily use, it provides round the clock care for sensitive teeth.
Was £3.25 Now £2.17

Today you can go further than treating the pain of dentine hypersensitivity with Sensodyne. Today you have new Sensodyne Repair & Protect containing NovaMin calcium phosphate technology. NovaMin builds a layer over exposed dentine. Starting from the first use, this reparative layer creates an effective and lasting barrier to the pain of dentine hypersensitivity.
Our Price £28.45