---
Save Up To 1/3 On Vitamins & Supplements At Chemist Direct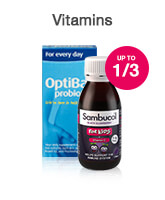 Save up to 1/3 on Vitamins & Supplements at Chemist Direct. 
Offer expires - Midnight 30.11.19.
Click here to find out more.
Sambucol Immuno Forte Liquid preserves and maximises the naturally occurring health benefits of the elderberry, with added Antivirin, Zinc and Vitamin C.
Was £7.99 Now £5.99

Alli is indicated for weight loss in adults who are overweight (body mass index, BMI, 28 kg/m2) and should be taken in conjunction with a mildly hypocaloric, lower-fat diet.
Was £49.99 Now £29.99

Sambucol Teddies are packed full of Vitamin C and Zinc to give your body the support that it needs for a normal and healthy immune system.
Was £8.24 Now £6.18

Vitamin D is vital in supporting healthy bones and teeth, as well as the immune system and muscle health. People with low levels of sunshine exposure are advised to take a daily vitamin D supplement to avoid becoming deficient.
Our Price £4.49

Sambucol Black Elderberry Extract is specially formulated by scientists to help support the immune system. The children's vitamin is for kids from 1 year up to 12 years. It has high antioxdant levels to protect cells.
Was £7.99 Now £5.99

Kids Sambucol Black Elderberry Extract x6 - This multipack helps support the immune system of kids as it has high antioxidant levels to protect cells.
Was £45.54 Now £34.16

Sambucol Immuno Forte Black Elderberry Capsules are an easy and convenient way to take black elderberry extract on the go. Packed with high antioxidant levels, vitamin C and zinc which supports the immune system. Combined with an antivirin action for the protection of healthy cells, Sambucol Immuno Forte Capsules are a health supplement that can help to support your body's natural defences daily.
Was £10.49 Now £7.87

OptiBac Probiotics For Every Day is high quality, daily supplement of good bacteria to provide daily maintenance for our digestive health and immune systems.
Our Price £29.99

Centrum Advance 50+ gives you a daily vitamin that supports vitality, immunity, eye health, and bone health. It is specially formulated to meet the needs of adults 50 years and over.
Was £12.79 Now £8.53

The newer formulation, PreserVision Lutein, is a suitable alternative for smokers. Lutein protects the macula from damage by free radicals, toxic chemicals formed in the eye during exposure to uv light. Lutein protects against the development of the leading cause of blindness in the elderly, macular degeneration.
Our Price £14.99