Save Up To 1/3 on Top Brands at Chemist Direct
---
Save Up To 1/3 on Top Brands at Chemist Direct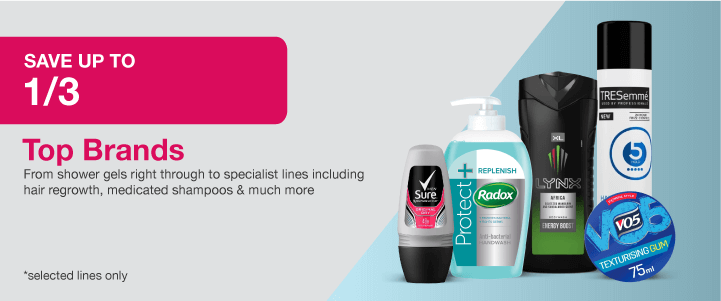 Save Up To 1/3 on Top Brands at Chemist Direct.
Offering great brands for amazing prices. From shower gels right through to specialist lines including hair regrowth, medicated shampoos & much more.
T&C's - selected lines only.
Click here to find out more.
Badedas Bath Gelee Original is a concentrated bath soak enriched with natural plant extracts. A brilliant way to unwind and indulge your senses and your body.
Was £9.95 Now £7.96

Simple Biodegradable Wipes are tough on makeup and gentle on skin. The new biodegradable wipes are kind to the planet, and no added artificial perfumes or colours means they are even kinder to your skin.
Was £3.65 Now £2.92

Vaseline Petroleum Jelly Baby locks in the moisture of your baby's skin to treat and prevent chaffed sore skin often caused by nappy rash.
Was £2.45 Now £1.84

Radox Care + Moisturise Handwash is an antibacterial handwash that is suitable for daily use by the whole family. Enriched with Chamomile and Jojoba Oil. Dermatologically tested.
Was £3.69 Now £2.44

Simple Hair Shampoo restores and replenishes your hair, leaving it soft and healthy.
Was £4.95 Now £3.27

Sure For Men Antiperspirant provides sweat and odour protection for up to 48 hours. Contains Sure's MotionSense technology.
Was £3.65 Now £3.28

VO5 Extreme Style Matt Clay is the ideal product if you're looking to create definition with a matte finish.
Was £3.37 Now £3.03

Dove Original Beauty Cream Bar is a moisturising soap that cleanses and doesn't dry your skin.
Was £5.82 Now £3.84

Refresh your body and your senses with this peppermint and sea minerals based Radox Muscle Soak Bath Soak.
Was £5.00 Now £4.50

There's one rule when you expose your hair to heat, the hair must be protected.
Was £5.49 Now £3.62