Save Up To 1/3 Off Scholl Products at Chemist Direct
---
Save Up To 1/3 Off Scholl Products at Chemist Direct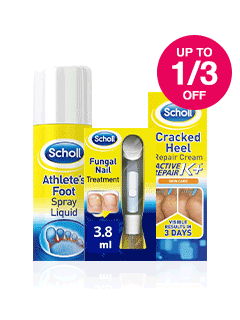 Save up to 1/3 off Scholl Products at Chemist Direct.
Offer expires - Midnight 30.04.20.
Click here to find out more.
Scholl Fresh Step Foot Spray neutralises odours and reduces wetness for up to 24 hours. It works to relieve itching and soreness, and prevents reinfection.
Our Price £3.99

Scholl Pressure Point Foam Padding offers ultra soft cushioning to reduce pressure & friction.
Our Price £2.29

Scholl Advance Athlete's Foot Cream contains an antifungal ingredient which is clinically proven to treat Athlete's Foot effectively. It also provides long lasting protection. It relieves the itch of athlete's foot and treats the infection when applied for seven days of treatment.
Was £5.99 Now £4.79

Scholl Toenail Scissors - Ideal for cutting thick toenails. Sharp and precise.
Our Price £7.59

Discreet gel plasters for the rapid relief of pain and pressure caused by corns.
Our Price £3.59

Scholl Fresh Step Shoe Spray keeps your shoes and feet smelling fresh and clean for up to 24 hours. It provides complete odour elimination and keeps your feet free from bacteria and fungi.
Our Price £3.99

Breathable knee support for injury prevention and rehabilitation. Suitable for a wide range of sporting activities.
Our Price £7.25

ProSport Elasticated Ankle Support provides effective support for sprains and strains and weak ankle conditions.
Our Price £6.29

The ProSport Elasticated Knee Support provides effective support for the prevention of injuries to the knee.
Our Price £6.99