---
Save 5% On All Orders At Hampergifts.co.uk
Our beautifully presented food hampers make ideal presents for friends, family or corporate clients. Filled with some award-winning goodies and priced from £22 to £250 you're bound to find the right gift. Try the Savoury Heaven, the Best of British Hamper or the luxurious Royal to congratulate, reward, or say thank-you. Visi Hampergifts now and save 5% on all orders with AUG5HAMP until 31st August 2016! 
A great gift for family, friends or even just sharing round an office. Our smart Muffins, Cookies & Flapjacks Selection is brimming with seven delicious large American-style muffins, three flapjacks in mouth watering flavours, not to mention the scrumptious chocolate & hazelnut cookies!
Our Price £19.99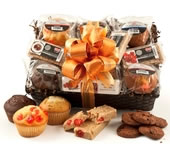 Featuring two jars of premium award-winning olives, a duo of refreshing fruit juices, Belgian truffles, lemon cookies, cranberry flapjack & milk chocolate discs.
Was £29.00
Now £26.10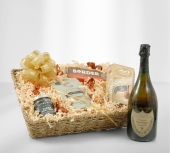 This hamper offers an original alternative to wine, just perfect if you know someone who'd appreciate a premium beer gift.
Our Price £37.00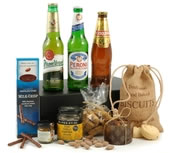 Simply a classic, this Port & Stilton hamper is a cut above the norm. The generously sized Blue Stilton wedge is from the famous Cropwell Bishop creamery.
Our Price £44.50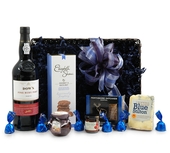 Celebrate the best of British with our beautifully designed British food tower. We've scoured the country to find the best local food, then carefully packed it into attractive blue and silver gift boxes.
Our Price £54.99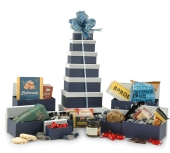 This luxurious picnic hamper includes everything you need for a delicious outdoor feast. You'll love the carefully chosen mixture of snacks and treats, and you'll appreciate the cutlery and crockery which is included. It sure beats paper plates!
Our Price £65.00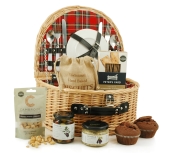 This deep wicker basket is brimming with sweet & savoury tastes to relish. Its centrepiece is a duo of medal winning wines; a velvety merlot from Argentina, and a peachy Italian chardonnay presented in a stunning milk-glass finished bottle.
Our Price £87.50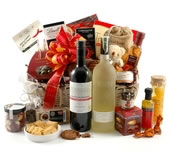 Pack up everything you need for a proper family picnic with this beautiful wicker picnic basket. The classy, timeless design looks great, but it's what's on the inside that really matters.
Our Price £135.00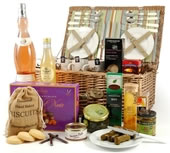 You'll barely be able to lift this superb basket, which is packed to the brim with an incredible selection of food and drink. The lucky recipient will hardly know where to begin!
Our Price £175.00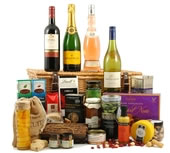 This Champagne & Gourmet Food hamper is the perfect luxury gift to indulge someone special. With an ideal mix of sweet and savoury, it offers something for everyone and celebrates every occasion.
Our Price £94.99