---
Save 25% on Selected Garnier Skincare Products at Chemist Direct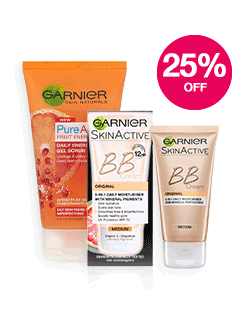 25% Off Garnier Skincare Products at Chemist Direct.
Offer expires - Midnight 31.03.20.
Click here to find out more.
Garnier Pure Active 3in1 Wash, Scub & Mask makes it easier than ever to have clean, clear and soft skin in minimal time! With three fantasic uses all working to banish blemishes in one simple product, Garnier Pure Active 3in1 Wash, Scub & Mask helps to moderate oil secretion, reducing shine for a matte appearance, while helping to fight the cause of spots at it's core.
Was £5.10 Now £3.83

Garnier BB Cream for Combination to Oily Skin is an oil-free formula which is the perfect choice for those who have oily or shiny skin, as it helps keep skin matte and fresh throughout the day.
Was £9.99 Now £7.49

Reduce shine and blackheads with Garnier Pure Active 3in1 Charcoal Anti-Blackhead Wash, Scrub & Mask.
Was £4.99 Now £3.74

Garnier Ambre Solaire No Streaks Bronzer Self Tan Lotion gives you a natural looking tan that provides skin hydration for up to 12 hours.
Was £9.99 Now £7.49

Garnier Intensive 7 Days Aloe Vera Hand Cream is enriched with soothing aloe vera to help hydrate the delicate skin of the hands. The unique L'Bifidus enriched formula works like a shield and helps lock in moisture for hydration that goes on and on.
Our Price £2.99

Garnier Ambre Solaire Protection Lotion SPF50+ keeps your skin protected from the harmful effects of UVA and UVB rays. It is enriched with antioxidants like Vitamin C that protect against immediate skin damage and long-term damages like premature skin ageing.
Our Price £6.99

Garnier Ambre Solaire Sensitive Advanced Dry Mist Sun Cream Spray SPF50+ gives your skin even coverage and protection from the sun. It is alcohol free, non-greasy, and non-sticky. This spray can be safely used for all skin types.
Our Price £8.99

Garnier Moisture Bomb Pomegranate Hydrating Face Sheet Mask is a hydrating revitalising mask for dehydrated skin. This mask rehydrates skin, reduces the look of fine lines, and revives.
Was £2.99 Now £2.24

Garnier Ambre Solaire After Sun Lotion is enriched with soothing Aloe Vera to help cool, soothe, hydrate, and calm your skin following sun exposure.
Our Price £7.49