---
Save 25% Off Bioglan Products At Chemist Direct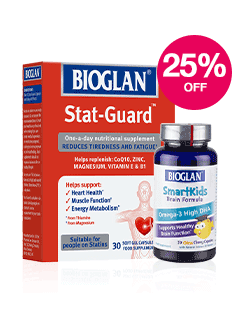 Save 25% off Bioglan Products at Chemist Direct.
Offer expires - Midnight 30.04.20.
Click here to find out more.
Bioglan Biotic Balance Choc Balls Milk 30's are the everyday dose of live bacteria you can include to your diet in a tasty way. Kids and the whole family will love them!
Was £9.49 Now £7.12

Collagen tablets with Marine Collagen, Hyaluronic Acid, Resveratrol & Vitamin C, specially formulated to keep skin, hair and nails looking healthy. 30 day supply of clinical dose collagen.
Was £22.99 Now £17.24

Bioglan Red Krill Oil helps support cardiovascular health and a regular healthy cholesterol levels. Bioglan Red Krill Oil is a great source of phospholipids, omega-3 essentail fatty acids and occurs naturally occuring antioxidants including Astaxanthin a red orange carotenoid that provides the red colour of Krill.
Was £15.99 Now £11.99

Bioglan SmartKids Brain Formula contains essential fish oils and is especially designed to help support health brain function, to make sure your little ones get the best support possible. Citrus flavour chewy capsules.
Was £9.49 Now £7.12
Bioglan Smartkids Healthy Eyes have been designed to help protect your children's precious and delicate eyes, whilst maintaining normal vision. Delicious orange flavour chewable gummies.
Was £6.99 Now £5.24

A blend of barley grass, wheatgrass, spirulina, chlorella, spinach and kale, Green Boost has no added flavours so is perfet for using in both sweet and savoury dishes as well as adding to smoothies
Was £7.99 Now £5.99

Bioglan Red Krill Oil has a triple action formulation that helps support heart and cardiovascular health and normal healthy cholesterol levels within the normal range in healthy individuals.
Was £18.99 Now £14.24

Get a hit of greens with this convenient powder, packed with minerals and vitamins.
Was £19.99 Now £14.99

Bioglan Active Magnesium Cream delivers a daily dose of Magnesium through the skin to areas requiring additional Magnesium such as after physical activity or prior to sleep. Non-greasy, fast absorbing formula.
Was £10.99 Now £8.24

Convenient and delicious tasting Bioglan Beauty Collagen Gummies are specially formulated for healthy looking hair, skin and nails. Made with Marine Collagen and essential vitamins and minerals.
Was £18.99 Now £14.24