---
Save 15% On The Arena Flowers Winter Collection
Looking for wonderful winter flowers? Then look no further than our beautifully fresh flowers. Whether you are looking to warm someone's heart this winter with an extra special flower arrangement or celebrating a birthday or anniversary with a selection of seasonal flowers, we have the perfect gift for you and your loved ones. Simply enter the code "newyears" at the checkout - hurry offer ends 31st December 2017.
This traditionally festive bouquet mixes scarlet alstroemeria with velvety roses - both of which contrast beautifully against the vibrancy of the red hypericum balls.
Our Price £37.98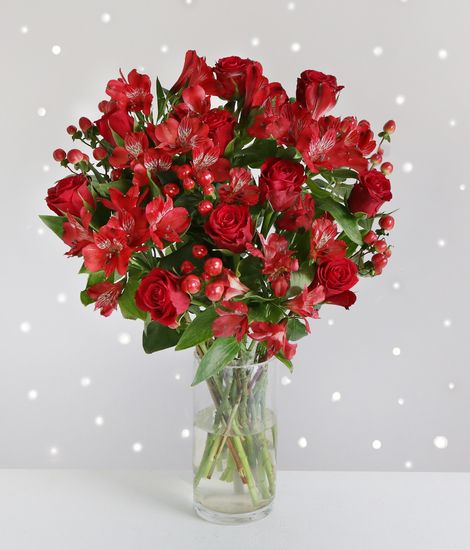 This bouquet celebrates the warm, spiced tones of the season by mixing zesty orange roses with vibrant hypericum. The arrangement also benefits from the soothing aromas of cinnamon and eucalyptus.
Our Price £34.99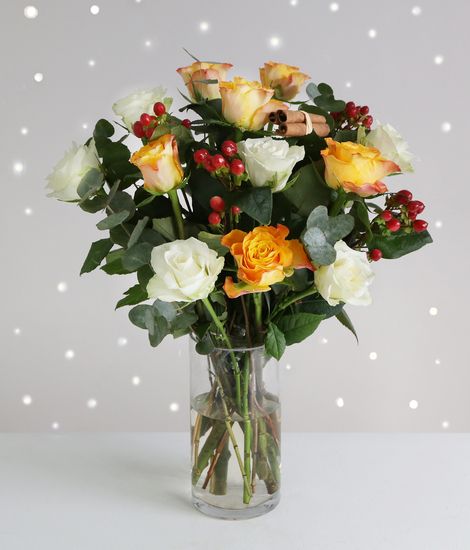 This gift bag is bursting with Christmas cheer! A fun mix of red LA Lily, peach germini, red Burgundy roses, juicy red hypericum and seasonal kiefer. Dazzling red glittered pinecones give this arrangement some festive sparkle, making it the perfect gift to take to a Christmas party!
Our Price £34.99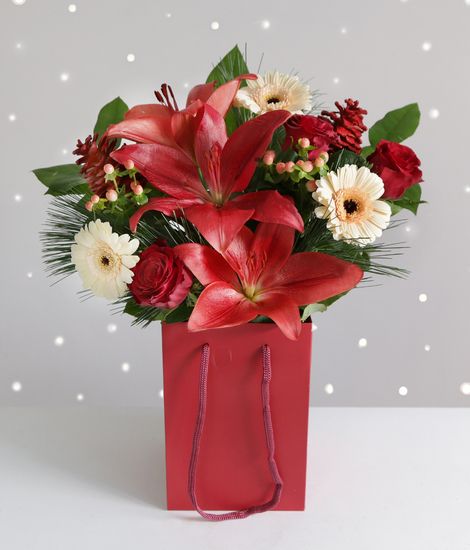 Our 'Mulled Wine' bouquet is a warm and zesty combination of a cream LA Lily, red 'Merlot' chrysanthemums, orange roses and salal foliage - finished with a cinnamon stick for extra Christmas spice!
Our Price £31.99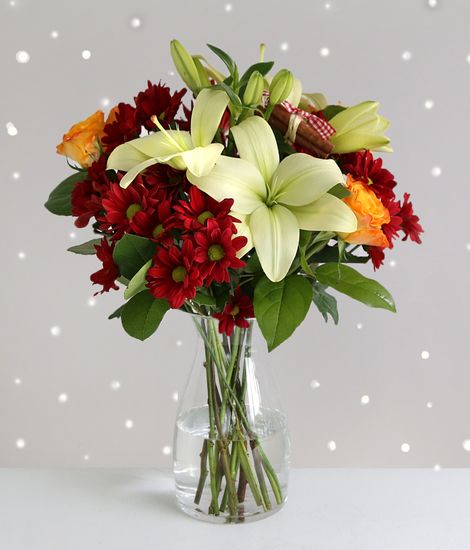 The 'Snowflake' bouquet captures the essence of winter with its mix of snow-white alstroemeria, roses and frosted white birch twigs.
Our Price £37.98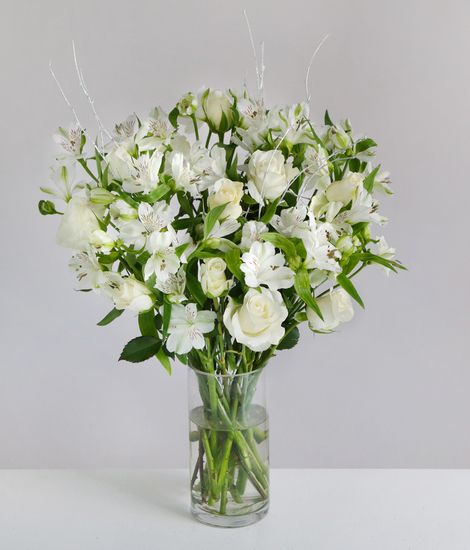 These beautiful burgundy red roses are dusted with red sparkle and ready for the party season! Nestled amongst sage coloured foliage and completed with an ilex pick, there's no mistaking this is a Christmas bouquet!
Our Price £31.98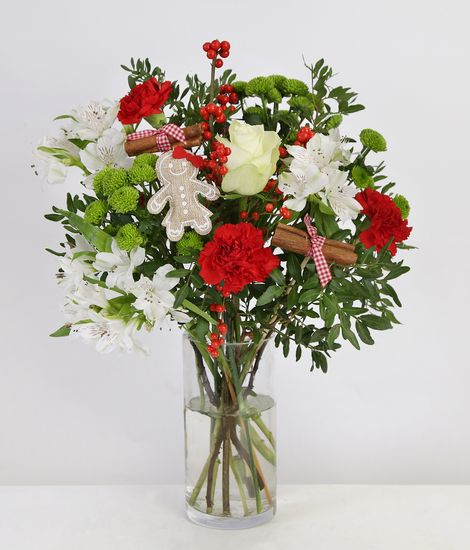 This zesty 'Festive Basket' will help to create a Christmassy feel in your house or that of a loved one. Enjoy the aromatic smell of orange and cinnamon mixed with the traditional Christmas scent of blue pine to set off the arrangement of red roses, orange carnation and hypericum.
Our Price £34.99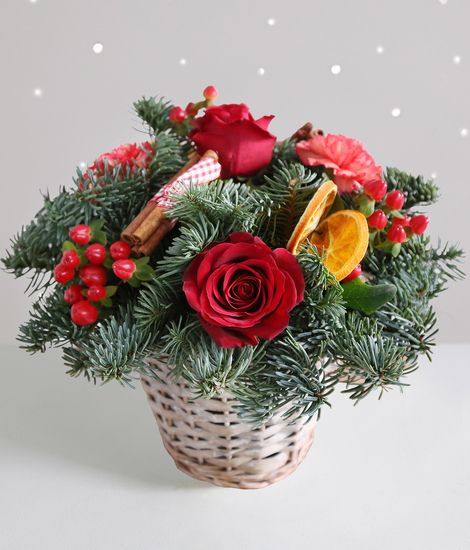 A delicious mix of pinks and purples, this bouquet combines the cool tones of 'Maritim' roses with the warmth of pink oriental lilies and deepest purple viburnum berries - a sprinkling of Christmas magic is added to this arrangement with the addition of silver painted ruscus. A beautiful choice for a Winter birthday gift!
Our Price £47.99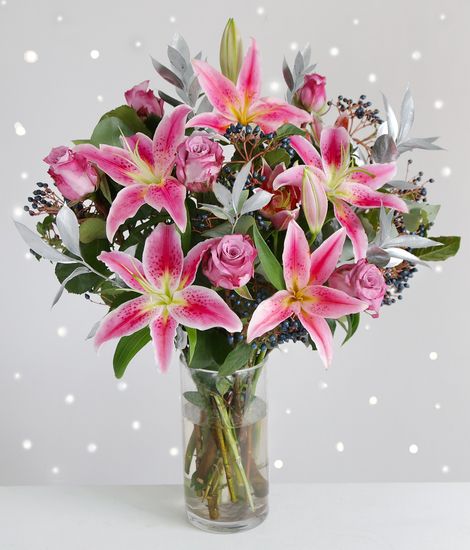 This bouquet of pretty pastel shades makes a perfect springtime gift for someone special. The cream 'Athena' roses, peach germini and pink hypericum combine wonderfully with the satin shades of alstroemeria petals, creating an arrangement reminiscent of a ballerina's tulle skirt!
Our Price £34.98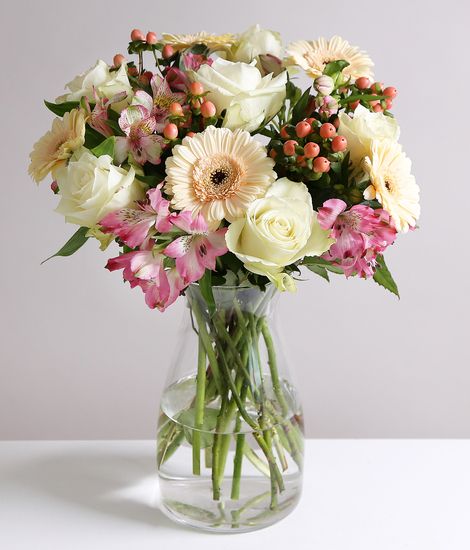 With its bold shades of orange, yellow, cerise and blue, this is one striking bouquet! This arrangement contains some flower favourites - vibrant yellow roses, cerise carnations, sky-blue agapanthus and a zesty orange LA lily at the centre of the 'Vida Loca'.
Our Price £34.98