---
Save Up To 1/3 On Medicines In The Big January Sale At Chemist Direct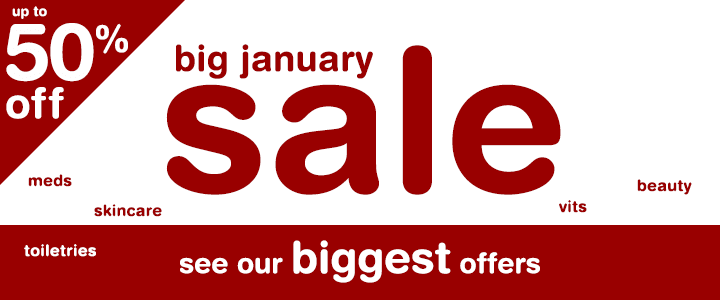 This week Chemist Direct bring you up to a 1/3 off medicines in their big January sale. Please click here to see full range.
Mepilex Lite Dressing is an absorbent, soft silicone dressing with Safetac technology.
Was £3.90
Now £3.51


Zirtek Allergy relieves the unpleasant symptoms and discomfort of hayfever and other allergies, such as sneezing, irritated, runny and blocked up nose, itchy, red and watering eyes and itchy skin rashes.
Was £3.79
Now £3.03


Calpol Sugar Free Infant Suspension Sachet gives you 12 sachets that provide gentle pain and fever relief for children 2 years and above.
Our Price £3.59

Benadryl Allergy Relief Capsules are fast acting allergy relief, getting to work in just 15 minutes.
Was £3.99
Now £3.59


Lemsip Cold & Flu Lemon Sachets offer relief of the symptoms of colds and influenza, including the relief of aches and pains, nasal congestion and the lowering of temperature.
Was £1.80
Now £1.62


Gaviscon Advance Liquid Aniseed provides fast, effective and long lasting relief from heartburn and acid indigestion.
Was £6.29
Now £5.66


Scholl Party Feet Ultra Slim
Was £4.79
Now £4.31


Compeed Corn Moisturising Plasters have been designed to protect corns from pressure and rubbing.
Was £4.79
Now £4.31


New Era No.11 Nat. Sulph. gives you sodium sulphate tablets to deal with water infiltrations, liverish symptoms, influenza, and bilious attacks.
Was £6.79
Now £5.43


Disprin Aspirin Soluble Tablets 16 are designed to relieve pain, and reduce fever and inflammation. They can be used for the relief of mild to moderate pain.
Our Price £1.79