---
Save 10% On Diarrhoea Tablets At Chemist Direct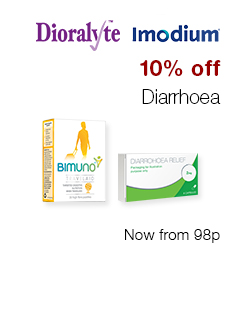 Get 10% Off Diarrhoea Tablets At Chemist Direct.
Now From Only 98p.
Click here to find out more
Loperamide 2mg Capsules(Imodium Alternative) are antidiarrhoeal capsules that work by making the stools more solid and less frequent. It helps to stop diarrhoea with just one dose.
Was £2.69
Now £2.42
Save £0.27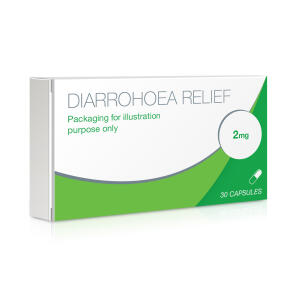 Imodium Instant Melts can provide fast and effective relief and can stop diarrhoea in one hour. They dissolve instantly on the tongue with no need to be taken with water. They're ideal for those who struggle with traditional tablets, or to keep in your bag for on the go relief.
Was £6.59
Now £5.93
Save £0.66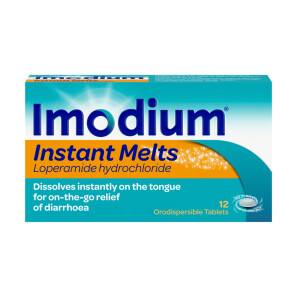 Imodium Classic 2mg Capsules can stop diarrhoea in one hour, working quickly to restore your body's harmony by slowing your digestion down. This helps to recover the absorption of fluids into your body.
Was £7.69
Now £6.92
Save £0.77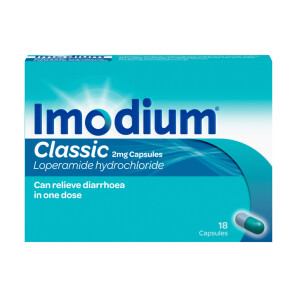 Imodium Plus Comfort Tablets is a soothing formula that helps to relieve diarrhoea, painful cramps, bloating and wind. The tablets get to work quickly, allowing you to get on with your day.
Was £4.19
Now £3.77
Save £0.42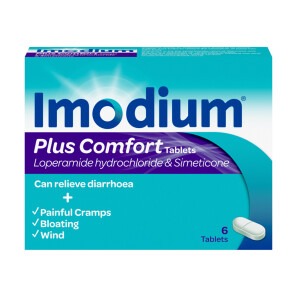 Dioralyte Sachets Blackcurrant is indicated for the replacement of essential body water and salts in the treatment of acute diarrhoea in infants, children and adults. Early use is important to avoid dehydration, particularly, in the young and elderly.
Was £3.69
Now £3.32
Save £0.37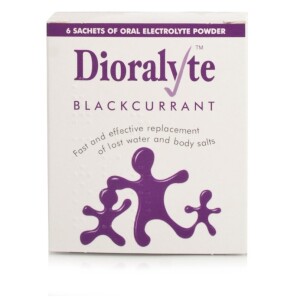 Colofac IBS Irritable Bowel Syndrome Tablets are a well-known antispasmodic meaning they help the bowel to relax making movement of stools more 'normal'. It contains the active ingredient Mebeverine Hydrochloride which is used for the management of irritable bowel syndrome. Colofac helps relieve the symptoms of IBS, which include abdominal pain and cramps, bowel spasm, diarrhoea and flatulence by relaxing the muscles in the gut. Colofac helps treat the symptoms of:
Was £5.29
Now £4.76
Save £0.53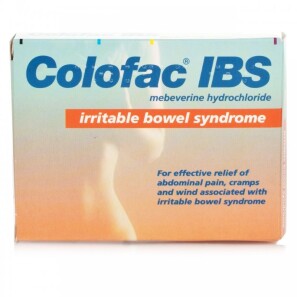 Pepto-bismol Chewable Tablets 12 are an on-the-go option for those who find it difficult to swallow pills. Its Fast acting formula provides relief from:
Was £3.25
Now £2.93
Save £0.32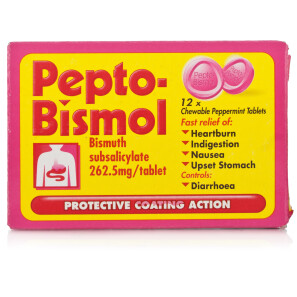 Diarrhoea Relief - Loperamide Capsules contain the active ingredient, Loperamide, that works to slow the muscular contractions of the intestine, to help relieve diarrhoea.
Was £1.09
Now £0.98
Save £0.11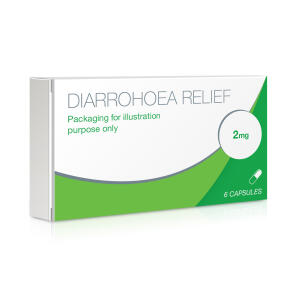 Pepto-Bismol with its fast acting formula and protective coating action provides fast relief of:
Was £4.79
Now £4.31
Save £0.48