---
Save 10% Off Selected Cold & Flu At Chemist Direct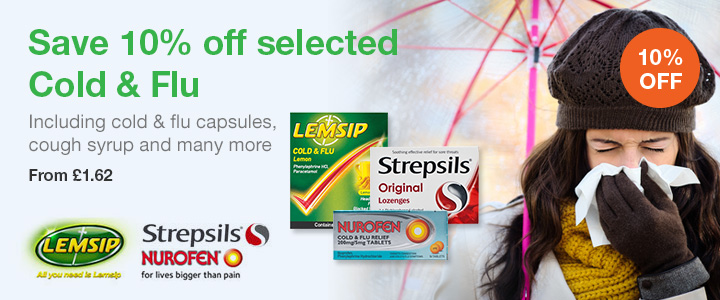 Today we bring you 10% off selected cold & flu medicines at Chemist Direct. Click here to see full range.
Lemsip Cold & Flu Lemon Sachets offer relief of the symptoms of colds and influenza, including the relief of aches and pains, nasal congestion and the lowering of temperature.
Was £3.29
Now £2.96

Lemsip All In One Mucus Sachets provides effective relief from fever, mucus cough, head and body aches, blocked noses and sore throats.
Was £4.99
Now £4.49


When you need to battle through the symptoms of cold and flu, new Lemsip Max All In One Cold & Flu Capsules can provide relief from all the major symptoms of cold and flu.
Was £4.49
Now £4.04


Lemsip Max Day & Night Cold & Flu Relief provides fast and effective relief from cold related symptoms no matter what time of day it is.
Was £4.45
Now £4.01


Strepsils Strawberry Sugar Free Lozenges help to soothe and relieve a dry cough, sore throat, or nasal congestion. It is sugar free and suitable for diabetics.
Was £3.79
Now £3.41



Nurofen Cold & Flu Tablets offer relief of symptoms associated with colds and flu.
Was £4.99
Now £4.49



Strong relief from sinus pain/pressure, blocked nose & headaches
Was £5.39
Now £4.85


Lemsip Max Cold & Flu Blackcurrant helps ease major symptoms such as a headache, blocked nose, fever, body aches and sore throat.
Was £3.32
Now £2.99