---
Save 1/3 on Neutrogena Skincare Products at Chemist Direct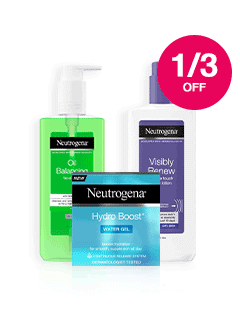 Save 1/3 on Neutrogena Skincare Products at Chemist Direct. 
Offer expires - Midnight 31.03.20.
Click here to find out more.
Clear your complexion with an oil-free moisturiser and defend against breakouts with Neutrogena Clear & Defend Oil Free Moisturiser.
Was £4.45 Now £2.97

Refresh your senses and your skin with invigorating pink grapefruit. Gently cleanses, purifies and freshens your skin with micoclear technology.
Was £4.57 Now £3.05

Neutrogena Norwegian Formula Concentrated Hand Cream - Unscented, delivers relief for dry, chapped hands. Even under the harshest conditions, it leaves hands noticeably softer smoother.
Was £3.69 Now £2.46

Neutrogena Clear & Defend Rapid Clear Treatment formula gel visibly clears spots and blemished. Non drying and suitable for all skin types quickly reduces excess oil and effectively purifies the skin.
Was £5.30 Now £3.53

Discover Neutrogena Deep Moisture Fast Absorbing Body Lotion, 24h optimal moisture with immediate absorption so there's no need to wait to get dressed. Leaves skin feeling ultra-soft, smooth and comforted.
Was £4.99 Now £3.33

Give your skin a hydration boost and protect the skin's natural barrier with Neutrogena Hydro Boost Gel-Cream. The formula contains hyaluronic acid which is naturally found in the skin, and leaves skin smooth, supple and renewed.
Was £12.60 Now £8.40

Neutrogena Intense Repair Foot Creme is designed to nourish and soften dry, damaged feet. As it provides 24 hour moisturisation, this foot cream is ideal for cracked heels, moisturising to soothe and restore hydration levels and give effective, instant relief.
Was £7.49 Now £4.99

Boost your skin's natural moisture without greasy residue. Neutrogena Deep Moisture Fast Absorbing Body Lotion leaves your skin moisturised by delivering the active ingredient up to 10 layers deep into the skin.
Was £4.06 Now £2.71

Boost the natural elasticity of your skin with a lotion that is non-greasy and fast to sink in.
Was £6.22 Now £4.15

Keep hands soft without the greasy after feel with Neutrogena Norwegian Fast Absorbing Light Hand Cream. It keeps hands hydrated and comforted, immediately moisturising hands so they recover their softness and suppleness.
Was £4.19 Now £2.79