Save 1/3 on Neutrogena Skincare Products at Chemist Direct
---
Save 1/3 on Neutrogena Skincare Products at Chemist Direct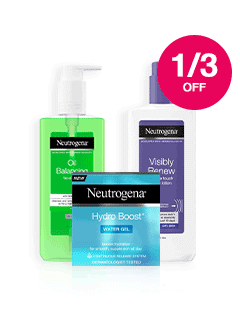 Save 1/3 on Neutrogena Skincare Products Products at Chemist Direct.
Offer expires - Midnight 31.03.20.
Click here to find out more.
Clear your complexion with an oil-free moisturiser and defend against breakouts with Neutrogena Clear & Defend Oil Free Moisturiser.
Was £4.45 Now £2.97

Neutrogena Clear & Defend Rapid Clear Treatment formula gel visibly clears spots and blemished. Non drying and suitable for all skin types quickly reduces excess oil and effectively purifies the skin.
Was £5.30 Now £3.53

Give your skin a hydration boost and protect the skin's natural barrier with Neutrogena Hydro Boost Gel-Cream. The formula contains hyaluronic acid which is naturally found in the skin, and leaves skin smooth, supple and renewed.
Was £12.60 Now £8.40

Neutrogena Hydro Boost Body Gel Cream brings advanced facial hydration expertise to body care, for supple and radiant skin developed with dermatologists.
Was £5.81 Now £3.87

Neutrogena Hydro Boost Eye Awakening Gel provides a shot of concentrated hydration that instantly replenishes the skin around the under-eye area. Using a hyaluronic gel matrix, this cream enhances hydration and strengthens the skin barrier, leaving skin feeling fresh.
Was £12.60 Now £8.40

Discover Neutrogena Oil Balancing In Shower Mask infused with with lime and glycolic acid to remove oil and provide a lasting mattifying effect. Revealing a refreshed, cleansed looking complexion.
Was £4.99 Now £3.33

Neutrogena Intense Repair Foot Creme is designed to nourish and soften dry, damaged feet. As it provides 24 hour moisturisation, this foot cream is ideal for cracked heels, moisturising to soothe and restore hydration levels and give effective, instant relief.
Was £7.49 Now £4,99

Neutrogena Deep Moisture Express Body Mist is formulated to work deep within your skin, to provide it with the optimum moisture level by hydrating dry skin instantly for 48 hours.
Was £6.99 Now £4.99

Developed for dry skin, Neutrogena Deep Moisture Oil in Lotion provides 24hr moisture & satin smooth skin. Enriched with natural oil it has immediate absorption and its light, non-greasy texture melts into your skin instantly, leaving skin looking and feeling soft, smooth and beautifully healthy.
Was £4.99 Now £3.33

Discover Neutrogena Blackhead Eliminating Facial Scrub, the oil-free formula deeply purifies blackhead prone skin and helps eliminate & prevent blackheads for a refined complexion.
Was £4.99 Now £3.33