Save 1/3 on E45 Products at Chemist Direct
---
Save 1/3 on E45 Products at Chemist Direct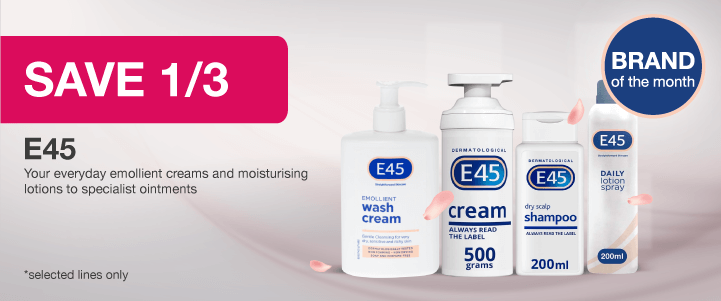 Save 1/3 on E45 Products at Chemist Direct.
From your everyday emollient creams and moisturising lotions to specialist ointments.
T&C's - Selected lines only.
Click here to find out more.
E45 Emollient Wash Cream is ideal for dry skin conditions such as Eczema and Dermatitis. Containing no soap or detergent, this cream is ideal for everyday use.
Was £5.38 Now £3.60

E45 Itch Relief Cream treats itchy, irritated or inflamed skin caused by eczema, dermatitis, pruritus and other dry-skin conditions.
Was £6.99 Now £4.68

E45 Cream Pump is a gentle everyday moisturiser for dry and sensitive skin. It helps keep your skin feeling soft, supple and hydrated. The lotion is suitable for use all over your body, face and hands and is used treat and soothe skin that is itchy, dry and flaky.
Was £12.49 Now £8.37

E45 Shower Cream gently and effectively cleanses your dry skin, leaving it feeling soft and smooth.
Was £5.49 Now £3.68

E45 Moisturising Lotion helps to soothe and relieve dry and sensitive skin, making it an ideal everyday moisturiser for the whole family.
Was £7.49 Now £5.02

E45 Emollient Bath Oil is clinically proven to help soothe and moisturise dry, itchy skin, creating a lasting barrier that protects against moisture loss.
Was £8.62 Now £5.78

Fast acting, 24 hour spray moisturiser, helps to relieve & repair very dry skin
Was £7.49 Now £5.02

E45 Dermatitis Cream is scientifically proven to help reduce inflammation and redness. Has anti-inflammatory properties to soothe the skin and calm redness.
Was £17.99 Now £12.05

Deep and long lasting moisturisation, with evening primrose oil and no added colours or fragrances. Suitable for everday use.
Was £6.99 Now £4.68

E45 Rich 24HR Hand Cream provides deep moisturisation that lasts throughout the day.
Was £4.99 Now £3.34