Save 1/3 Off Palmer's Products at Chemist Direct
---
Save 1/3 Off Palmer's Products at Chemist Direct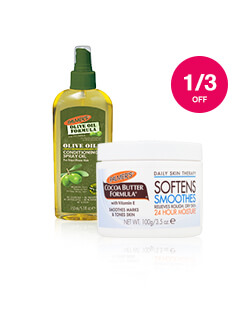 Save 1/3 off Palmer's Products at Chemist Direct.
Offer expires - Midnight 31.01.20.
Click here to find out more.
Palmer's Skin Success Anti-Bacterial Medicated bar soap deeply cleanses the pores, removing any residual dirt.
Was £2.49 Now £1.66

Palmer's Cocoa Butter Formula for Men contains pure Cocoa Butter and Vitamin E to effectively combat rough, dry skin. This fast absorbing moisturizer smoothes skin all over body and face. The fresh scent invigorates without overpowering.
Was £5.75 Now £3.83

Palmer's Cocoa Butter Formula Skin Therapy Oil for Face has an advanced formula that provides complete hydration to your face and whole body.
Was £9.99 Now £6.66

A tone correcting fade cream that effectively lightens the appearance of dark spots and discoloration, leaving skin more luminous and evenly-toned.
Was £8.99 Now £5.99

Palmer's Skin Success Anti-Dark Spot Fade Milk is a tone correcting body lotion that targets pigment-prone areas such as knees, elbows, feet and décolletage to help correct unwanted discoloration.
Was £9.99 Now £6.66

Palmer's Cocoa Butter Bust Firming Massage Cream firms and tones renewing youthful appearance.
Was £6.50 Now £4.33

Rich, luxurious Palmer's Cocoa Butter Formula Original Solid Formula provides deep hydration all over. This unique formula melts into skin, creating a protective barrier that locks in moisture.
Was £4.15 Now £2.77

Palmer's Firming Butter with shea butter, collagen, elastin and vitamin E will help tighten skin for a firmer and more glowing look.
Was £5.25 Now £3.50

Reduce the appearance of scars and stretch marks with this powerful serum.
Was £10.00 Now £6.67

Palmer's Coconut Oil Formula Strengthening Leave In Conditioner deeply nourishes, rapidly detangles and repairs damaged, dry, frizzy hair through a unique blend of pure Coconut Oil and Vitamin E.
Was £5.29 Now £3.53