---
Save Up To 1/3 With Our Last Chance To Buy at Chemist Direct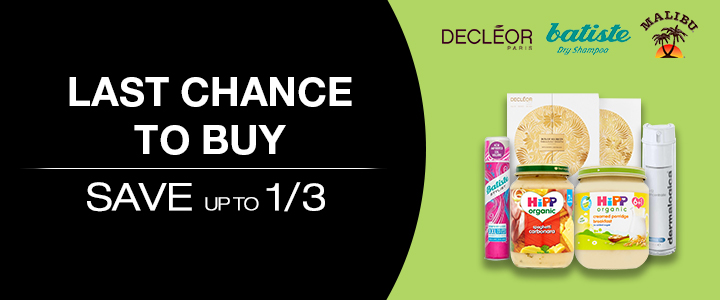 We are starting off our January Sale with a bunch of items that are your Last Chance To Buy! You can save up to 1/3!
Please click here to check out our other great offers.
Kotex Ultra Normal 16 are ultra-thin normal liners that are super-absorbent. This pack contains 16 easy to carry liners.
Was £0.82
Now £0.54
Save £0.28

Garnier Ultimate Blends Silky Smoother Shampoo 400ml combats split-ends in mid-long hair, leaving it refreshed and nourished.
Was £3.47
Now £2.29
Save £1.18

Glucobate tablets help you maintain normal blood glucose levels.
Was £8.99
Now £6.74
Save £2.25

Give dull hair the boost it's been crying out for with Aussie Miracle Shine Shampoo, complete with pearl powder and Australian ginseng. For dull, tired hair begging to shine.
Was £4.39
Now £2.90 Save £1.49

Wormazole Dog Wormer is a granulate formulation of fenbendazole as a ready to administer oral anthelmintic for dogs. 1g Wormazole contains 0.22 g active ingredient fenbendazole Ph. Eur.
Was £0.60
Now £0.40
Save £0.20


BIOAPP is a natural aid to reducing calorie intake. It contains an innovative formulation called StatiMax, which contains 2 of the most effective natural ingredients that may help you feel fuller for longer.
Was £12.00
Now £7.20
Save £4.80

Bepanthen Baby Suncream 50 has been specially developed for baby's sensitive skin. It's free from parabens, colour, fragrance, and preservatives offer very high protection against the sun with 50 SPF.
Was £8.49
Now £5.60
Save £2.89

Much more fun than a manual toothbrush this Colgate Spiderman Battery Power Toothbrush will ensure he looks forward to brush time both day and night.
Was £5.36
Now £3.54
Save £1.82

Emergen C Energy Release Immunity Support is a lemon & lime flavoured multi-vitamin supplement. Presented as a powdered sachet, it mixes into water to make a tasty drink.
Was £4.00
Now £3.00
Save £1.00

Right Guard Women Total Defence 5 Floral Power gives you all day protection from sweat and perspiration.
Was £2.00
Now £1.32 Save £0.68