ROK e cigarette updates & September Sale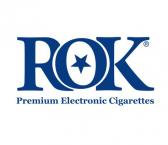 We just wanted to give you an update on the latest opportunities with ROK Universal E Cigarettes (AWIN ID 4270).
(Remember to replace '!!!id!!!' with your publisher ID in the deeplink URLs)
Hi !!!name!!!,Just wanted to give you an update on the latest opportunities with ROK Universal E Cigarettes
September Sale
Our September Sale is now on, with reductions across the store including 75% off e cigarette 105 and discover starter kits at just £4.99, £5 off all medium and low strength refills / tips and 5 for 4 on all accessories, such as batteries, chargers and tankomizers. The sale runs until 30th September.To support the event we have upload new banner creatives which will automatically update if you are featuring any of our 'Promotional banners'.
ROK Legend new product banners
All seven formats of our 'New Product banners' have updated creative to include the latest version of our ROK Legend e cigarette, available from just £24.99 and including a 900 mah battery, USB charge lead, tankomizer and screw top lid.
5 for 4 on all refills / tips
We are offering an ongoing 5 for 4 on all cartridge refills / replacement tips promotion
Latest discount codes
We currently have 2 discount codes live with Affiliate Window which run until 31st October:
Coupon code: ROK10KIT
Description: 10% off all e cigarette starter kits
New product
We have just launched a handy case to protect the ROK Legend e cigarette for just £1.99
E liquid update
We have the most rigorous testing and controls in place to ensure all ROK e liquids, which are produced in the UK, are safe. Our suppliers are under strict instruction not to include diacetyl as an ingredient in our raw materials - this is clearly explained before we do any business and we test independently. Our e liquids are available in a range of 15 flavours and choice of 4 different strengths of nicotine.
Good luck with the promotions!
Tags: e cigarette, e cigarettes, ecigarette, ecigarettes, ecigs, electronic cigarettes, rok, rok electronic cigarettes, rok universal