Redeem £10 voucher on orders over £99 until 29th Feb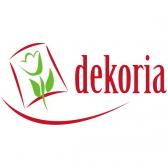 Hello Affiliates,
Finish February with a boost in your home & garden commission with Dekoria's latest offer valid until 29th February. For the last few days enter code FEB10 at checkout to redeem a £10 voucher on all orders over £99, just in time for refreshing Easter table settings and spring home makeovers.
This voucher may not be exchanged for cash and may be redeemed against the cost of goods only.
Enjoy a boost with Dekoria's new offer!
Best regards,
Alicja Szalinska
Affiliate Marketing Manager
ali@dekoria.co.uk
Tags: blinds, curtains, discount code, discount codes, discount made to measure blinds, discount made to measure curtains, Easter, easter code, easter discount code, easter voucher, easter voucher code, home & garden discount, home & garden voucher, home discount, home voucher, promotion, voucher, voucher made to measure blinds, voucher made to measure curtains, voucher £10, vouchers, vouchers £10