QVC - TSV
Hi QVC affiliates,
Every day, QVC offers a product at a fantastic price known as Today's Special Value, and this great offer is live for 24 hours. Please note that the Today's Special Value product may sell out quickly, and in this instance, the link will automatically be updated to a 'One Time Only' offer.
A One Time Only item is offered when a Today's Special Value is no longer available. This One Time Only Price is only valid for the length of the show the product is in, and is the lowest price QVC will ever offer for that item.
The deeplink for the Today's Special Value will always remain the same (please make sure to replace !!!id!!! with your own affiliate ID in order for us to track any sale that you may generate):
Code:
http://www.awin1.com/cread.php?awinmid=2027&awinaffid=!!!id!!!&clickref=&p=http%3A%2F%2Fwww.qvcuk.com%2Fukqic%2Fqvcapp.aspx%2Fapp.detail%2Fparams.frames.y.tpl.uktsv.item.tsv%2Fwalk.html.%257Ctsvmetadrill%2Chtml%3Fcm_re%3DPromos-_-TSV-_-P%3A432760
Since the deeplink remain the same, please note you may only promote the TSV (Today's Special Value) on the actual day.
You only need to ensure to update the copy and product information of each offer according to the day of the offers. Otherwise, you risk promoting the incorrect information and offer at an incorrect price.
Prepare yourselves for fantastic offers today and this week! These are offers you do not want to miss!
Today's Special Value: Tuesday 07th February :
Judith Williams Luxury Diamond 4pc Intense Anti Ageing Collection for just £33.33 (Normal QVC price £40.50)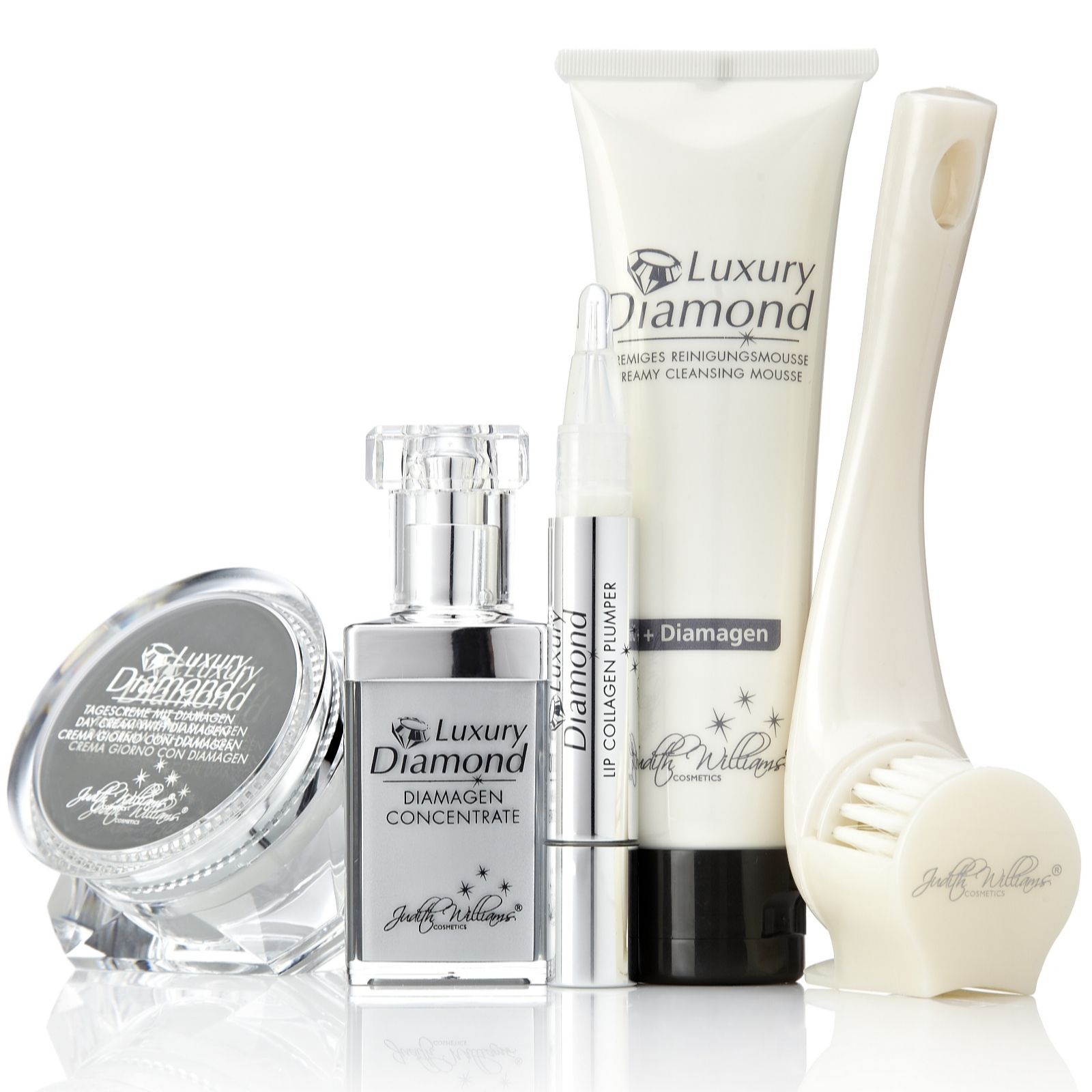 Description
Judith Williams Luxury Diamond Intense Anti-Ageing Collection. This four-piece set features full-sized items including the top-rated cleansing mousse and brush set, plus a brand new Anti-Ageing Lip Plumper Pen to help leave your lips hydrated and looking fuller. Assist your skin in the daily battle against ageing with Judith Williams skincare.
Who is this collection for?
Targeted for women with mature skin looking to help to fight the signs of ageing and reveal a more hydrated, plumper and youthful-looking complexion.
Contains:
1 x Luxury Diamond Cleansing Mousse and Brush (100ml) - this deeply cleansing formula helps to target and reduce the appearance of fine lines, while hydrating and moisturising the skin. The mousse has amazing results when used with the cleansing brush leaving skin looking fresh and glowing
1 x Luxury Diamond Day Cream (50ml) - this subtly perfumed day cream helps protect your skin from the signs of premature aging. It's enriched with Diamagen, shea butter and jojoba oil
1 x Luxury Diamond Anti-Ageing Lip Plumping Pen (4ml) - helps reduce the appearance of fines lines around the lip area. It creates a great base for lipstick and helps your lip colour stay put
1 x Luxury Diamond Concentrate (30ml) - a highly concentrated serum perfect for anyone who wants to give their skin a moisture boost and counteract the tell-tale traces of time
1 x gift box
How to use:
Cleansing mousse and brush - apply a small amount in the morning and evening onto cleansed skin, including the neck and decollete. Gently massage the mousse onto the skin with the brush using a circular motion, then rinse off with tepid water
Concentrate - apply to cleansed facial skin before applying your moisturiser
Day Cream - gently massage into cleansed skin in the morning
Lip Plumping Pen - apply generously onto the lips and the skin area around the lips
About the Luxury Diamond range
Luxury Diamond skincare is the most intense anti-ageing range by Judith Williams. It contains the unique active Diamagen complex, which is formulated to address the needs of mature skin. It helps provide the skin with an elasticity booster, refined with diamond powder to give you a more radiant complexion.
This week's TSVs
Wednesday 08th February
Cook's Essentials 1.5litre Slow Cooker with glass lid & tagine lid for £12.96 (Normal QVC price £15.75 )
Thursday 09th February
Or-Paz Gemset Watch Sterling Silver for £95.38 (Normal QVC price £114.50)
Also, QVC have been featured in National Press this week after their researched showed that 'being sent a love letter was voted the most wanted romantic expression by one in five women'. This research made it into both Daily Express and the Daily Star!
If you have any queries regarding the QVC programme, please do not hesitate to contact me on Jenny.hoang@affiliatewindow.com
Happy promoting!
Have a great week!
Many thanks!
Kind regards,
The QVC Affiliate Team,
Jenny Hoang