QVC - This Week's TSVs
Hi QVC affiliates,
Every day, QVC offers a product at a fantastic price known as Today's Special Value, and this great offer is live for 24 hours. Please note that the Today's Special Value product may sell out quickly, and in this instance, the link will automatically be updated to a 'One Time Only' offer.
A One Time Only item is offered when a Today's Special Value is no longer available. This One Time Only Price is only valid for the length of the show the product is in, and is the lowest price QVC will ever offer for that item.
The deeplink for the Today's Special Value will always remain the same (please make sure to replace !!!id!!! with your own affiliate ID in order for us to track any sale that you may generate):
Code:
http://www.awin1.com/cread.php?awinmid=2027&awinaffid=!!!id!!!&clickref=&p=http%3A%2F%2Fwww.qvcuk.com%2Fukqic%2Fqvcapp.aspx%2Fapp.detail%2Fparams.frames.y.tpl.uktsv.item.tsv%2Fwalk.html.%257Ctsvmetadrill%2Chtml%3Fcm_re%3DPromos-_-TSV-_-P%3A432760
Since the deeplink remain the same, please note you may only promote the TSV (Today's Special Value) on the actual day.
You only need to ensure to update the copy and product information of each offer according to the day of the offers, otherwise, you risk promoting the incorrect information and offer at an incorrect price.
Prepare yourselves for fantastic offers today and this week! These are offers you do not want to miss!
Today's Special Value: Tuesday 3rd July
Everyday Essentials Complete Papercrafting Kit for 48 Cards £24.84 (Normal QVC price £30.00)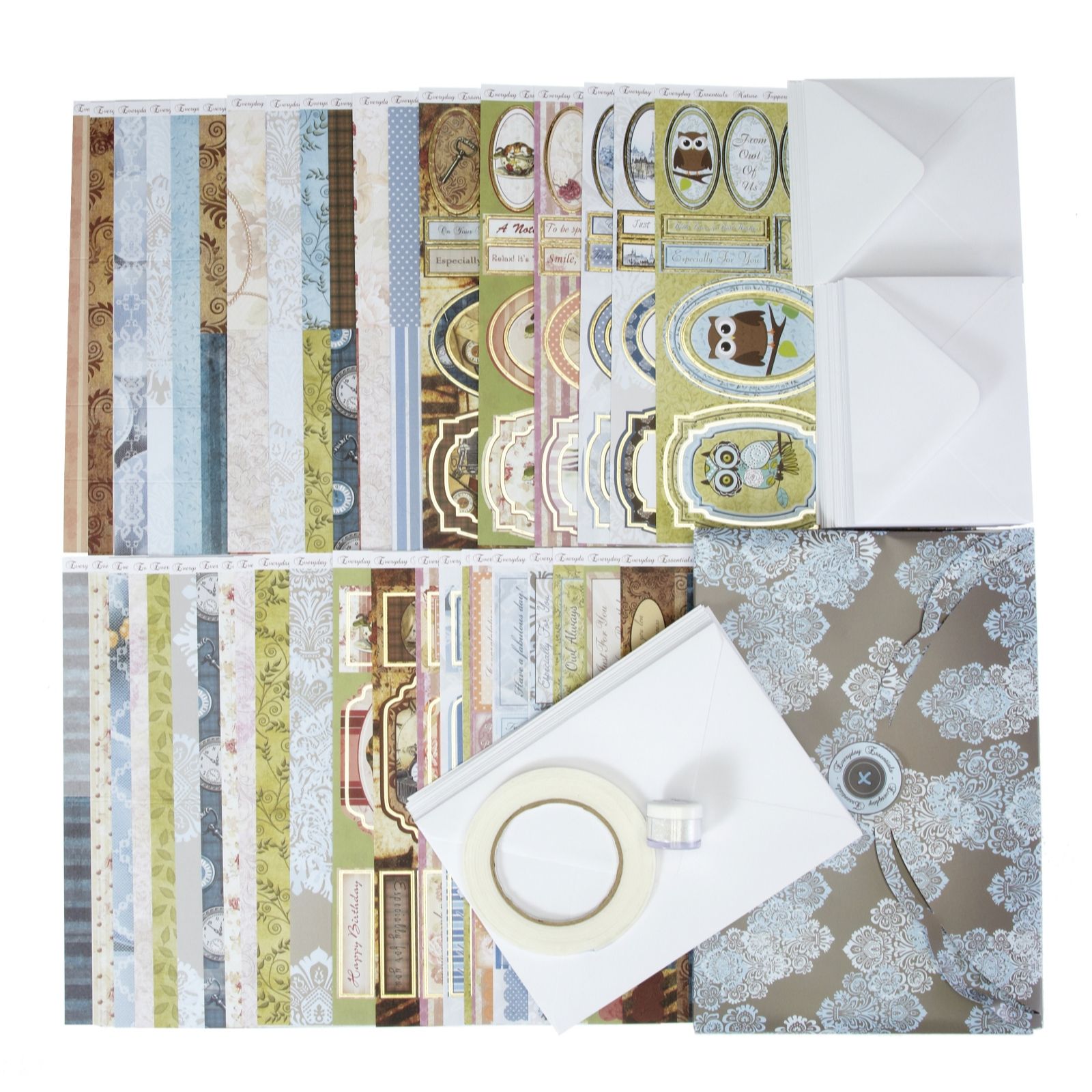 Description
Everyday Essentials Concept Card kit. Features A4 sheets of assorted die-cut cards, toppers and borders in six different themes, including Antique, Romance and more, plus Crystalina glitter and white foam tape. This luxury card kit, presented in a gorgeous damask folder, lets you create 48 cards in total and is suitable for all levels of crafter.
Explore techniques - mix and match a combination of the elements to create a variety of unique 3D looks and styles.
Contains:
48 x A4 die cut and printed sheets - contains eight sheets each of the following themes: Antique, Floral, Native, Pet, Romance and Travel
1 x pot of Everyday Essentials Crystalina Glitter (10g)
1 roll of white foam tape (2.5m)
1 x A4 damask presentation folder: 31cm X 22cm x 2cm (12" x 8.58" x 0.78")
1 x instruction leaflet
Each theme contains one sheet each of the following:
A5 die cut window card
C6 die cut K card
C6 oval die cut cards
C6 shaped die cut cards
Hanging toppers square card - die cut
Shaped card toppers die cut and foiled in gold
Toppers and borders die cut and foiled in gold
Stepper card die cut
All measurements are approximate
This week's TSVs
Wednesday 4th July
Prepology Set of 2 Hot Key Silicone Gloves with cotton lining £11.98 (Normal QVC price £14.50)
Thursday 5th July
Ultrasun 4pc Summer Collection £22.80 (Normal QVC price £27.75)
If you have any queries regarding the QVC programme, please do not hesitate to contact me on Natalie.Simpson@affiliatewindow.com
Happy promoting! To join the programme please click here.
Kind regards,
The QVC Affiliate Team,
Natalie Simpson