QVC - This Weekend's TSVs
Hi QVC affiliates,
Every day, QVC offers a product at a fantastic price known as Today's Special Value, and this great offer is live for 24 hours. Please note that the Today's Special Value product may sell out quickly, and in this instance, the link will automatically be updated to a 'One Time Only' offer.
A One Time Only item is offered when a Today's Special Value is no longer available. This One Time Only Price is only valid for the length of the show the product is in, and is the lowest price QVC will ever offer for that item.
The deeplink for the Today's Special Value will always remain the same (please make sure to replace !!!id!!! with your own affiliate ID in order for us to track any sale that you may generate):
Code:
http://www.awin1.com/cread.php?awinmid=2027&awinaffid=!!!id!!!&clickref=&p=http%3A%2F%2Fwww.qvcuk.com%2Fukqic%2Fqvcapp.aspx%2Fapp.detail%2Fparams.frames.y.tpl.uktsv.item.tsv%2Fwalk.html.%257Ctsvmetadrill%2Chtml%3Fcm_re%3DPromos-_-TSV-_-P%3A432760
Since the deeplink remain the same, please note you may only promote the TSV (Today's Special Value) on the actual day.
You only need to ensure to update the copy and product information of each offer according to the day of the offers, otherwise, you risk promoting the incorrect information and offer at an incorrect price.
Prepare yourselves for fantastic offers today and this weekend! These are offers you do not want to miss!
Today's Special Value: Friday 10th August
Bodyshield Pro Water Free Cleaning Kit with 3 x 750ml Bottles & 2 Cloths £19.96(Normal QVC price £25.00)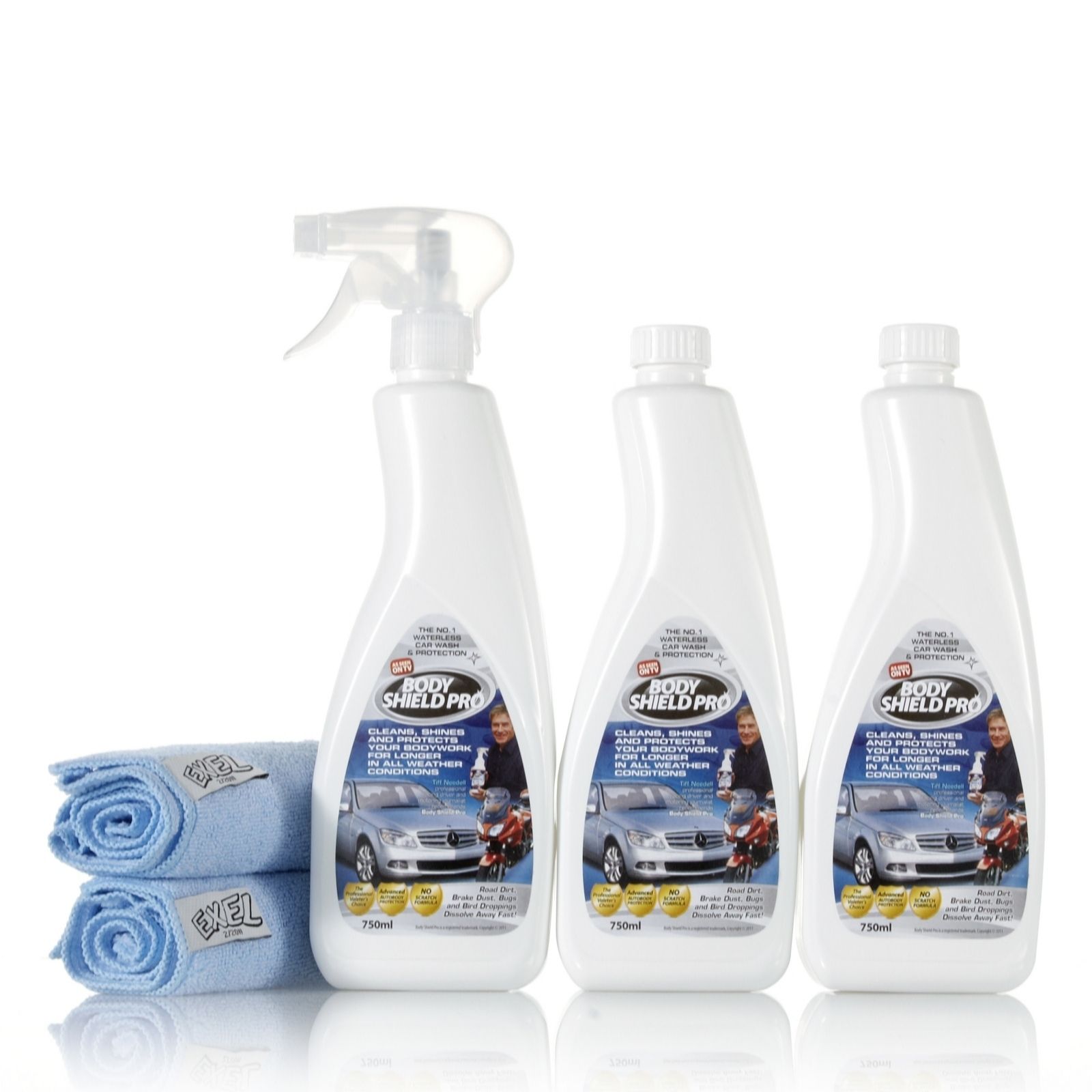 Description
Body Shield Pro water-free car cleaning kit with two microfibre cloths. This easy-to-use car cleaner doesnt require water; simply spray on, wipe off then buff with the microfibre cloth for a stunning high gloss shine. Banish dirt and keep your car looking cleaner for longer with the Body Shield Pro car cleaning kit.
Fast, effective cleaning - the unique silicone formula lifts and encapsulates dirt, without the need of soapy water and sponges, ensuring great, streak-free cleaning results every time.
Professional protection - Body Shield Pro can be used on body panels, alloy wheels, chrome trim, plastics, mirrors, glass and even windscreens. It leaves a weather and dirt-resistant barrier on all surfaces.
Ideal for water conservation areas
Contains:
3 x Body Shield Pro (750ml)
2 x microfibre cloths
1 x pump spray head
How to use:
Shake bottle well and sray directly on to the body work.
Spread evenly on to a small area at a time, and remove dirt using a clean microfibre cloth, turning the cloth regularly.
Wait a few seconds until a light haze appears.
Polish off using a different microfibre cloth
For best results, do not use the same microfiber cloth to clean and polish your vehicle.
This weekend's TSVs
Saturday 11th August
Canon Compact Camera ft 20x Superzoom 12MP Sensor & Full HD 1080 Video Including a 4GB SD Card and canon case ££229.98 (Normal QVC price ££277.50)
Sunday 12th August
Lulu Guinness Patent Leather small Eva handbag with removable cross body strap £235.28 (Normal QVC price £290.00)
Monday 13th August
Vax Grime Master Combo Pack - Portable hand held steam cleaner and hard floor steam mop £74.98 (Normal QVC price £91.00)
If you have any queries regarding the QVC programme, please do not hesitate to contact me on Natalie.Simpson@affiliatewindow.com
Happy promoting!
Kind regards,
The QVC Affiliate Team,
Natalie Simpson