QVC - This Weekend's TSVs
Hi QVC affiliates,
Every day, QVC offers a product at a fantastic price known as Today's Special Value, and this great offer is live for 24 hours. Please note that the Today's Special Value product may sell out quickly, and in this instance, the link will automatically be updated to a 'One Time Only' offer.
A One Time Only item is offered when a Today's Special Value is no longer available. This One Time Only Price is only valid for the length of the show the product is in, and is the lowest price QVC will ever offer for that item.
The deeplink for the Today's Special Value will always remain the same (please make sure to replace !!!id!!! with your own affiliate ID in order for us to track any sale that you may generate):
Code:
http://www.awin1.com/cread.php?awinmid=2027&awinaffid=!!!id!!!&clickref=&p=http%3A%2F%2Fwww.qvcuk.com%2Fukqic%2Fqvcapp.aspx%2Fapp.detail%2Fparams.frames.y.tpl.uktsv.item.tsv%2Fwalk.html.%257Ctsvmetadrill%2Chtml%3Fcm_re%3DPromos-_-TSV-_-P%3A432760
Since the deeplink remain the same, please note you may only promote the TSV (Today's Special Value) on the actual day.
You only need to ensure to update the copy and product information of each offer according to the day of the offers, otherwise, you risk promoting the incorrect information and offer at an incorrect price.
Prepare yourselves for fantastic offers today and this week end! These are offers you do not want to miss!
Today's Special Value: Friday 6th July
Shark Press and Refresh Garment and Upholstery Steamer with heated wrinkle eraser and vertical press pad £69.78 (Normal QVC price £72.50)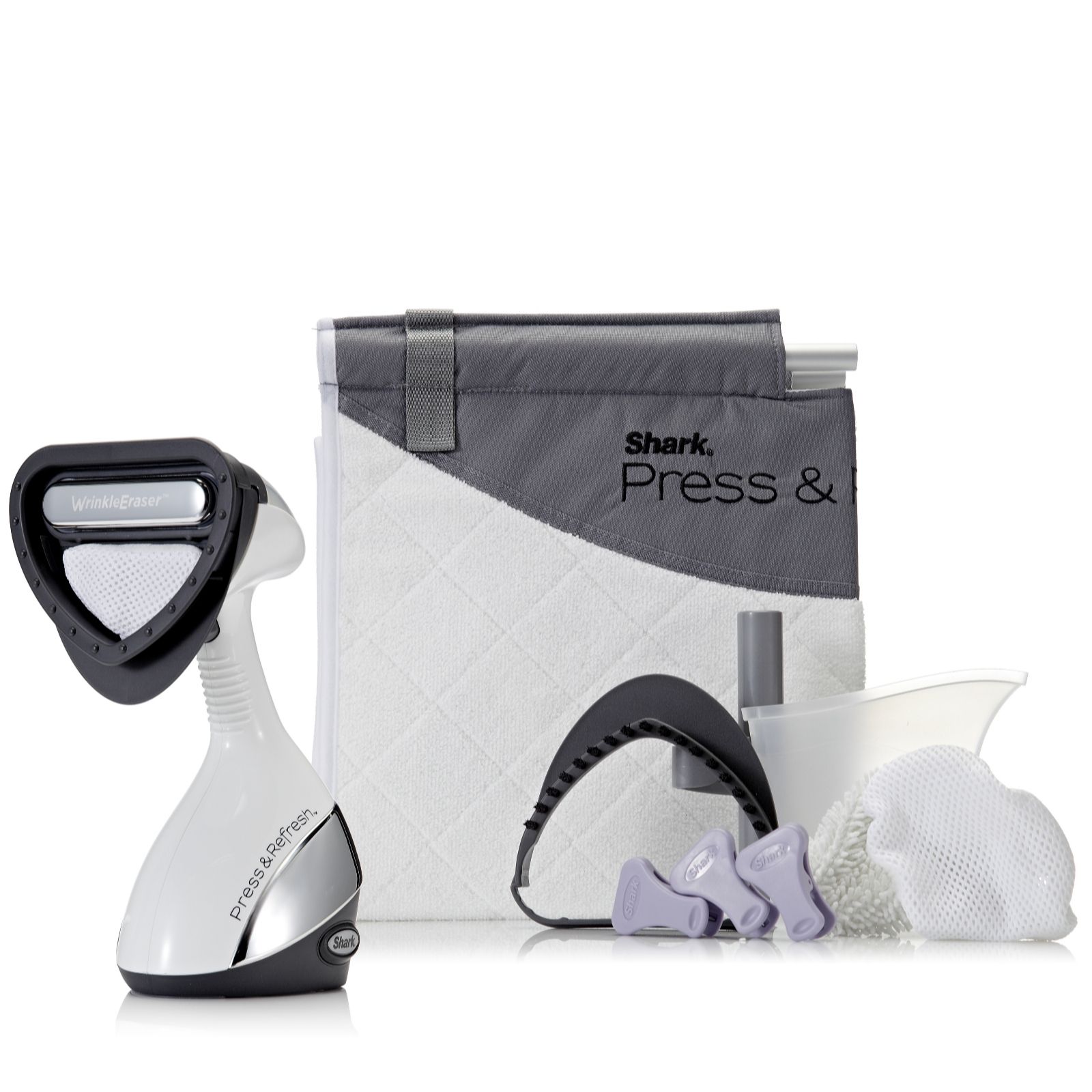 Description
Press & Refresh garment and upholstery steamer from Shark. Lightweight, compact and ready to use within a minute, this portable gadget uses the power of steam to freshen fabrics, and removes creases with Wrinkle Eraser technology. Save time and money with this at-home alternative to traditional dry cleaning.
Not just for clothes - refresh curtains without having to take them down, and give cushions, sofas and upholstery a clean too.
Safe to use on most fabrics - refresh delicates like silk, plus material embroidered with sequins and beading. More detailed information on fabric suitability can be found in the instruction manual.
Quick and easy to use - the vertical press pad hangs over any door, so you can set up an 'ironing board' almost anywhere; simply attach your garments with the Velcro clips and you're ready to go!
Contains:
1 x main press unit
1 x lint brush frame
1 x upholstery/delicate fabric frame
1 x steam bonnet
1 x upholstery bonnet
3 x Velcro clips
1 x basic vertical press pad
1 x delicate fabric bonnet
instruction manual
Technical specifications:
30 second heat-up time
Power cable: 5 metres
Voltage: 220V - 240V
Wattage: 1580W
Water storage capacity: 200ml
Weight: 1.7kg
All measurements are approximate
This weekend's TSVs
Saturday 7th July
Liz Earle 11 piece Top to Toe Hydrating Collection £45.96 (Normal QVC price £56.00)
Sunday 8th July
Panasonic DMC-G3 Compact System Camera Twin Lens Kit Olympic Games Edition Full HD Video 4GB SD Card £569.16 (Normal QVC price £688.50)
Monday 9th July
Vax All Terrain Heated Carpet, Upholstery and hard floor cleaner £247.93 (Normal QVC price £300.00)
Remember to replace !!!id!!! with your affiliate ID
If you have any queries regarding the QVC programme, please do not hesitate to contact me on Natalie.Simpson@affiliatewindow.com
Happy promoting! To join the programme please click here.
Kind regards,
The QVC Affiliate Team,
Natalie Simpson