QVC - This Weekend's TSVs
Hi QVC affiliates,
Every day, QVC offers a product at a fantastic price known as Today's Special Value, and this great offer is live for 24 hours. Please note that the Today's Special Value product may sell out quickly, and in this instance, the link will automatically be updated to a 'One Time Only' offer.
A One Time Only item is offered when a Today's Special Value is no longer available. This One Time Only Price is only valid for the length of the show the product is in, and is the lowest price QVC will ever offer for that item.
The deeplink for the Today's Special Value will always remain the same (please make sure to replace !!!id!!! with your own affiliate ID in order for us to track any sale that you may generate):
Code:
http://www.awin1.com/cread.php?awinmid=2027&awinaffid=!!!id!!!&clickref=&p=http%3A%2F%2Fwww.qvcuk.com%2Fukqic%2Fqvcapp.aspx%2Fapp.detail%2Fparams.frames.y.tpl.uktsv.item.tsv%2Fwalk.html.%257Ctsvmetadrill%2Chtml%3Fcm_re%3DPromos-_-TSV-_-P%3A432760
Since the deeplink remain the same, please note you may only promote the TSV (Today's Special Value) on the actual day.
You only need to ensure to update the copy and product information of each offer according to the day of the offers, otherwise, you risk promoting the incorrect information and offer at an incorrect price.
Prepare yourselves for fantastic offers today and this weekend! These are offers you do not want to miss!
Today's Special Value: Friday 21st September
Yogi 2 Piece Wand & Mini Straightener Styling Set £64.98(Normal QVC price £78.75)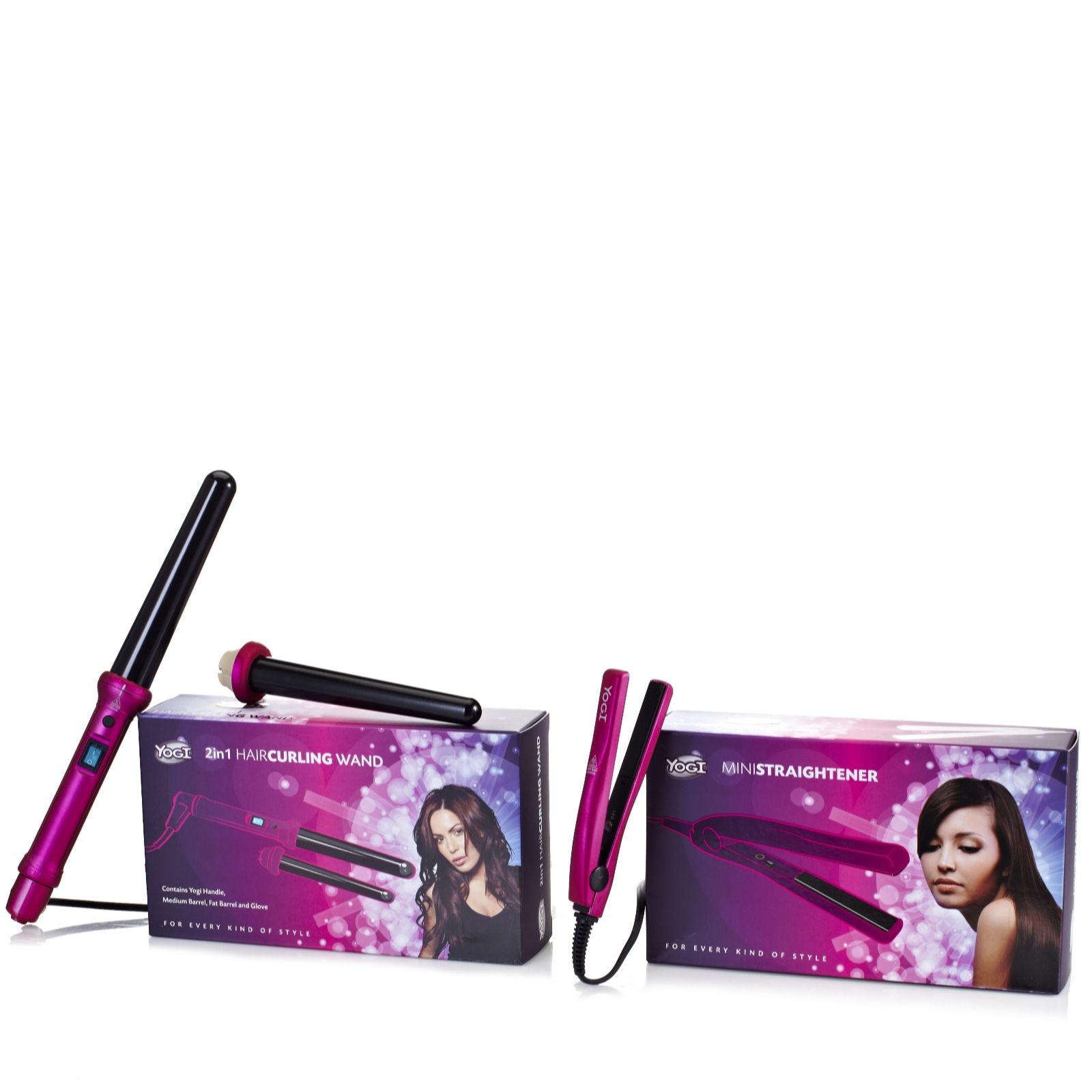 Description
Yogi wand and mini straightener styling set. Comprises a wand with detachable barrels so you can create tight curls or loose beach-style waves, and mini straightening irons to achieve sleek, poker straight locks. Create classic, daytime and party looks with this versatile styling set from Yogi.
Perfect present ideas - each hair styler comes individually packed so you can treat loved ones to the gift of great hair.
Contains:
• 1 x wand
• 1 x mini straightener
• 1 x detachable medium wand barrel (25mm tapering to 18mm) – ideal for creating curls
• 1 x detachable fat wand barrel (32mm tapering to 25mm) – ideal for creating loose waves
• 1 x heat protective glove
Yogi wand features:
• Ultra-smooth ceramic and tourmaline-infused barrels to help create a smooth, shiny finish
• Maximum temperature: 160 degrees
• Rapid heat-up technology with indicator light
• Easy-to-use interchangeable barrels (medium and large)
• 360 degree rotating swivel professional length cord (3m; 9.8ft)
• Soft-touch finish
Yogi mini straightener features:
• Lightweight ergonomic design
• Ultra-smooth ceramic and tourmaline-infused plates (10mm)
• Maximum temperature: 200 degrees
• Length: 15cm (6")
Five easy steps to create perfect curls
1. Take a section of the hair - the smaller the section the tighter the curl, the larger the section the looser the curl.
2. Holding the end of the sectioned hair, place the wand close to the root (be careful not to touch the scalp) and wrap this section of hair around the wand.
3. Keep the hair in this position and hold tightly against the wand for approximately 10 seconds.
4. Gently pull the wand out of the curled section of hair making sure that you continue to hold onto the end of the hair.
5. Release the hair and achieve your perfect Yogi curl.
This weekend's TSVs
Saturday 22nd September
Yankee Candle Set of 2 Treasured Memories Sampler Gift Sets £29.88 (Normal QVC price £36.25)
Sunday 23rd September
Prestigio 9.7" Multipad Ultra Android 4.0/1GB DDR3 Ram/16GB Flash Mem/ Wifi/ Front & Rear 2.0 MP Camera with Accessory Bundle £199.96 (Normal QVC price £230.00)
Monday 24th September
Susan Graver Drape Cardigan and Printed Camisole Set £34.48 (Normal QVC price £41.50)
If you have any queries regarding the QVC programme, please do not hesitate to contact me on Natalie.Simpson@affiliatewindow.com
Happy promoting!
Kind regards,
The QVC Affiliate Team,
Natalie Simpson