Pia Jewellery - Tranquil Turquoise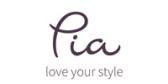 Hi all,
Get ready for summer with pia Jewellery and their newest collection
PLUS get 10% Off all non-sale items on site with code SS10
Happy Promoting!
Voucher Code:
Code: SS10
Offer: 10% Off Orders
Start: 01/01/15
Ends: 31/07/15
T&C's: Full price items only. Cannot be used in conjunction with any other offer.
Turquoise Oval Ring £20.00


http://www.awin1.com/cread.php?awinmid=5903&awinaffid=!!!id!!!&clickref=&p=http://www.piajewellery.com/turquoise-oval-ring-prod16905/
Turquoise Studs £25.00


http://www.awin1.com/cread.php?awinmid=5903&awinaffid=!!!id!!!&clickref=&p=http://www.piajewellery.com/turquoise-studs-prod16892/
Turquoise & Silver Necklace £55.00


http://www.awin1.com/cread.php?awinmid=5903&awinaffid=!!!id!!!&clickref=&p=http://www.piajewellery.com/turquoise-and-silver-necklace-prod13825/
Turqouise Drop Necklace £100.00


http://www.awin1.com/cread.php?awinmid=5903&awinaffid=!!!id!!!&clickref=&p=http://www.piajewellery.com/turquoise-drop-necklace-prod16893/
Turquoise Nature Pendant £25.00


http://www.awin1.com/cread.php?awinmid=5903&awinaffid=!!!id!!!&clickref=&p=http://www.piajewellery.com/turquoise-nature-pendant-prod15809/
Turquoise Stretch Bracelet £20.00


http://www.awin1.com/cread.php?awinmid=5903&awinaffid=!!!id!!!&clickref=&p=http://www.piajewellery.com/turquoise-stretch-bracelet-prod16898/
Agent Of Beauty Necklace was £90.00 NOW £50.00


http://www.awin1.com/cread.php?awinmid=5903&awinaffid=!!!id!!!&clickref=&p=http://www.piajewellery.com/agent-of-beauty-necklace-prod13047/
View the full collection here
http://www.awin1.com/cread.php?awinmid=5903&awinaffid=!!!id!!!&clickref=&p=http://www.piajewellery.com/turquoise-and-december-birthstones-jewellery-deptturquoise_pg1/
(remember to replace !!!id!!! with your own affiliate ID)
Promotional Tools:
Pia Jewellery have a wide variaty of Banners in multiple sizes available from the AWIN interface (if you require a specific size, please get in touch)
If you are not currently joined to the Pia Jewellery Affiliate Programme and would like to join, please click here
Contact Us:
If you have any queries or just want to know a bit more about the programme, then please don't hesitate to contact us
Best regards,
piajewellery@twentysixdigital.com
Chris Ratcliffe
Follow 26affiliates