Pia Jewellery - Extended Voucher Code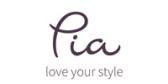 Hi all,
Pia Jewellery have extended their 10% Off code until the end of July!
Please update their merchant pages to reflect this.
Happy Promoting!
Voucher Code:
Code: SS10
Offer: 10% Off Orders
Start: 1/1/15
Ends: 31/07/15
T&C's: Full price items only. Cannot be used in conjunction with any other offer.
Promotional Tools:
Pia Jewellery have a wide variaty of Banners in multiple sizes available from the AWIN interface (if you require a specific size, please get in touch)
If you are not currently joined to the Pia Jewellery Affiliate Programme and would like to join, please click here
Contact Us:
If you have any queries or just want to know a bit more about the programme, then please don't hesitate to contact us
Best regards,
piajewellery@twentysixdigital.com
Chris Ratcliffe
Follow 26affiliates