Pia Jewellery - Deck The Halls with 20% OFF + Free Gift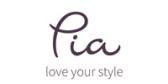 Hi all,
Get into the Christmas spirit with Pia Jewellery and their Christmas collection!
Get 20% Off Selected Decorations - 24 Christmas ideas to make your hoem more magical this Advent
PLUS get a Free Star with every purchase!
Happy Promoting!
Top picks from the Selected Decorations
Star Lights £18.00
http://www.awin1.com/cread.php?awinmid=5903&awinaffid=!!!id!!!&clickref=&p=http://www.piajewellery.com/star-lights-prod15407

Diamond Tea Light Holder £15.00
http://www.awin1.com/cread.php?awinmid=5903&awinaffid=!!!id!!!&clickref=&p=http://www.piajewellery.com/diamond-tea-light-holder-prod10949

Christmas Spice Candle £8.00
http://www.awin1.com/cread.php?awinmid=5903&awinaffid=!!!id!!!&clickref=&p=http://www.piajewellery.com/christmas-spice-candle-prod15504

Fig & Pear Candle £8.00
http://www.awin1.com/cread.php?awinmid=5903&awinaffid=!!!id!!!&clickref=&p=http://www.piajewellery.com/fig-and-pear-candle-prod15505

Four Star Tea Light Holders £20.00
http://www.awin1.com/cread.php?awinmid=5903&awinaffid=!!!id!!!&clickref=&p=http://www.piajewellery.com/four-star-tea-light-holders-prod15406

Glass Bauble Duo £18.00
http://www.awin1.com/cread.php?awinmid=5903&awinaffid=!!!id!!!&clickref=&p=http://www.piajewellery.com/glass-bauble-duo-prod15403

Teardrop Bauble £15.00
http://www.awin1.com/cread.php?awinmid=5903&awinaffid=!!!id!!!&clickref=&p=http://www.piajewellery.com/teardrop-bauble-prod15532

Stars & Dots Bauble £15.00
http://www.awin1.com/cread.php?awinmid=5903&awinaffid=!!!id!!!&clickref=&p=http://www.piajewellery.com/stars-and-dots-bauble-prod15533

View all of the Christmas Decorations here
http://www.awin1.com/cread.php?awinmid=5903&awinaffid=!!!id!!!&clickref=&p=http://www.piajewellery.com/20-off-christmas-decorations-deptdecorations20_pg1/?utm_source=emailvision&utm_medium=email&utm_campaign=60_14
(remember to replace !!!id!!! with your own affiliate ID)
Promotional Tools:
Pia Jewellery have a wide variaty of Banners in multiple sizes available from the AWIN interface (if you require a specific size, please get in touch)
If you are not currently joined to the Pia Jewellery Affiliate Programme and would like to join, please click here
Contact Us:
If you have any queries or just want to know a bit more about the programme, then please don't hesitate to contact us
Best regards,
piajewellery@twentysixdigital.com
Chris Ratcliffe
Follow 26affiliates