Pia Jewellery - 10% off Plus New Christmas Gift Collection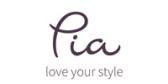 Hi All,
Pia Jewellery have launched their Christmas Gifts collection, providing a wealth of gift ideas for you to enjoy.
Please see to view some pieces from the collection.
You can also still enjoy 10% off your order using the code details below.
Code: AW1510
T&C's: Full price items only, not to be used in conjunction with any other offer.
The Christmas Gifts Collection
BEADED CHRISTMAS TREE DECORATIONS £18.00

PIA ELECTRONIC GIFT VOUCHERS From £5.00

If you are not currently joined to the Pia Jewellery Affiliate Programme and would like to join, please click here.
Contact Us:
If you have any queries or just want to know a bit more about the programme, then please don't hesitate to contact us.
Additionally if there are any opportunities for increased exposure then please get in touch.
Best regards,
Chris Ratcliffe
piajewellery@twentysixdigital.com