Personalised Chocolate From Chocolate Trading Co
At The Chocolate Trading Company our Personalised Chocolate Boxes are designed for promotional, hospitality and corporate gift use with a full colour personalisation and professional finish. Available in either Luxury chocolates or Superior chocolates. Our Luxury chocolates are of a high quality and suited to a wider audience using attractively priced Belgium chocolate. Our Superior chocolates are of the upper most quality and purity with higher cocoa contents and made by Michel Cluziel of France.
View all personalised box options.
Contents:-
Personalised Chocolate Box
Voucher Code
Personalised Chocolate Box
3 Personalised Chocolate Box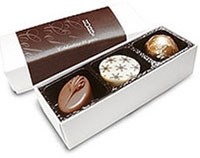 Personalised chocolate box containing three, milk, dark or white chocolates. The Box is suitable for a much wider logo and/or printed message, maximising your branding potential. The white, satin finish box base and lid is finished with a fully personalised sleeve, available in full colour as standard.
Luxury £3.11
Superior £3.54
12 Personalised Chocolate Box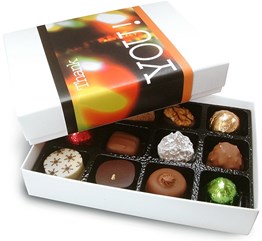 Personalised chocolate box containing twelve, milk or dark chocolates. The box is a sizeable chocolate gift box suited for deserving staff and respected clients. The white box base and lid is finished with a fully personalised sleeve, available in full colour as standard.
Luxury £10.50
Superior £11.94
6 Personalised Chocolate Box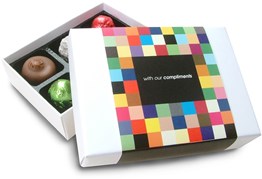 Personalised chocolate box containing six, milk, dark or white chocolates. The box is a generously sized chocolate box suitable for a wide variety of uses and allows for any assortment of chocolates. The white box base and lid is finished with a fully personalised sleeve, available in full colour as standard.
Luxury £5.22
Superior £5.94
4 Personalised Chocolate Box


Personalised chocolate box containing four, milk ,dark or white chocolates. The box is suitable for a modest chocolate gift box allowing a varied chocolate assortment to suit wider tastes. The white box base and lid is finished with a fully personalised sleeve, available in full colour as standard.
Luxury £3.60
Superior £4.14
2 Personalised Chocolate Box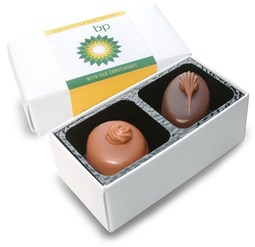 Personalised chocolate box containing two, milk, dark or white chocolates. The Box is a cost effective chocolate box, holding two contrasting chocolate choices with a wide personalised area for increased branding. The white box base and lid is finished with a fully personalised sleeve, available in full colour as standard.
Luxury £2.70
Superior £3.06
1 Personalised Chocolate Box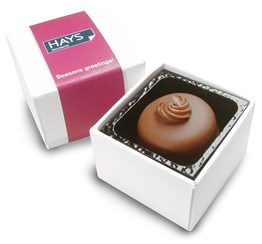 Personalised chocolate box containing a single, milk or dark chocolate. The Box is suitable for the most cost effective chocolate promotion or giveaway. The white box base and lid is finished with a fully personalised sleeve, available in full colour as standard.
Luxury £2.10
Superior £2.34
Voucher Code
Code - CTCAUG8
Promotion - 8% off everything
Expires - 31-08-2012