---
Perfect Picks For Perfect Weather With Hampergifts
With the sunshine finally here, get ready for everything-outside season and choose one of our cheese hampers! We've picked only the very best award winning cheeses and thoughtfully paired them with luxury treats to create a beautiful selection. Pick from the impressive Wine & Cheese Feast, our bestselling Wine, Cheese & Pate or the classic Port & Stilton Hamper. Don't forget to enter JUL5HAMP and receive 5% Off on all orders! 
This charming gift contains six carefully chosen treats to entice any cheese & wine lover. The classic blue stilton and fruity Australian merlot are both medal winners. And they'll go perfectly with the Irish oatcakes and spicy tomato chutney. The mouth watering chocolates are an indulgence for anytime! The Stilton Surprise comes beautifully hand-tied with purple ribbon in a re-usable woven basket.

Our Price £32.50 inc VAT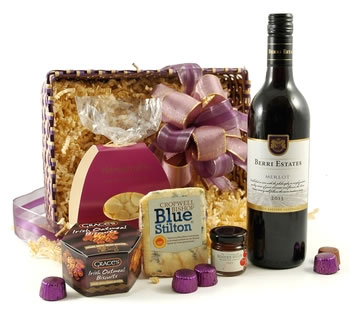 This lovely traditional Wine, Cheese & Pâté Hamper is an absolute winner for friends, family or colleagues. The carefully selected contents include an award-winning, fiery Red Leicester with Chillies and a silky smooth French red, commended at the International Wine Challenge. Uncork the highly-regarded wine and enjoy it with a perfect combination of delicious pheasant pâté and some gold medal-winning parmesan & pepper oatcakes.

Our Price £39.99 inc VAT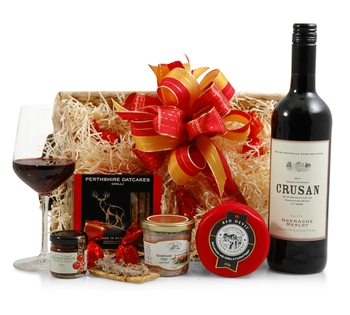 Simply a classic, this Port & Stilton hamper is a cut above the norm. The generously sized Blue Stilton wedge is from the famous Cropwell Bishop creamery. Possessing a velvety-soft texture, it's melt in the mouth delicious and will go perfectly with the Fine Ruby Port. The port is soft, rich and well balanced - perfect for an after dinner drink.

Our Price £44.50 inc VAT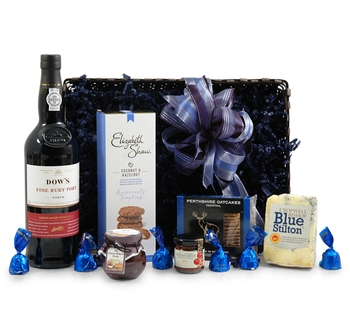 A timeless combination, this Cheese & Port Choice is a delight for any port or cheese enthusiast. The centrepiece is the beautiful medal winning Ramos Pinto Collector Reserva Ruby Port. An unfiltered ruby port, blended to have the character of a five year old, it's a rich, subtle wine which goes perfectly with cheese and chocolate.

Our Price £47.00 inc VAT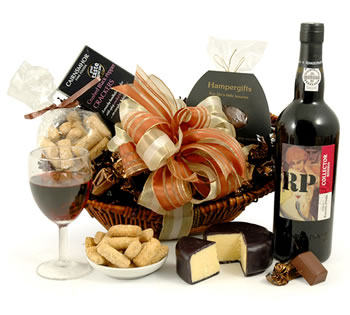 If you're looking for the best of the best, this opulent hamper contains only award-winning items. From highly rated chutney and spiced nuts to gold standard olives, this stunning, magnetically fastened green box makes big promises - and delivers on them!

Our Price £54.99 inc VAT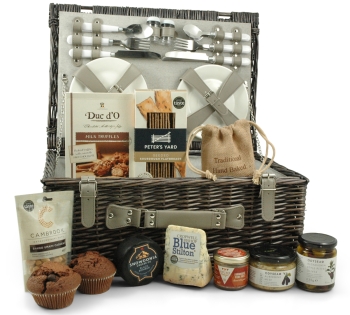 This sumptuous luxury wine & cheese hamper is perfectly suited for any occasion. A pair of classic award-winning cheeses are accompanied by an outstanding South African Merlot and a perfectly picked selection of other delights. Among the foods we've included some Gold Medal winning gems like a Spicy Mango & Ginger Chutney, a superb Cheese Maker's Pickle and the excellent Parmesan & Pepper Oatcakes

Our Price £66.99 inc VAT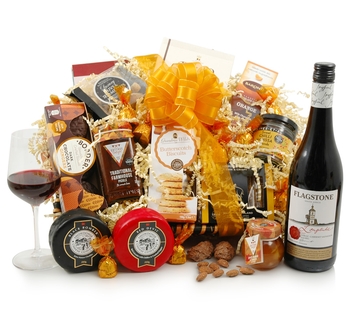 This gorgeous antique-wash chiller hamper is crammed with superb summer treats. The bright red straps secure two sets of cutlery, and a pair of ceramic plates. And you'll need them to dig into some classic goodies. We've paired a sublime, award winning Mature Cheddar with Cranberries with a fantastic Cheese Makers pickle.

Our Price £80.00 inc VAT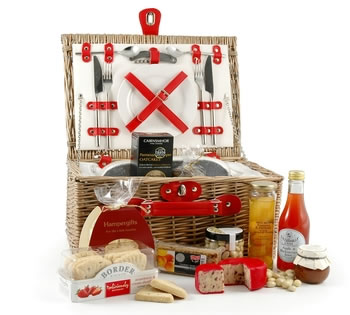 You'll barely be able to lift this superb basket, which is packed to the brim with an incredible selection of food and drink. The lucky recipient will hardly know where to begin! Perhaps with its' centrepiece - the award winning and well balanced Louis Dornier Champagne, perfect to be enjoyed with some of the included chocolates, fruit cake or nuts.

Our Price £175.00 inc VAT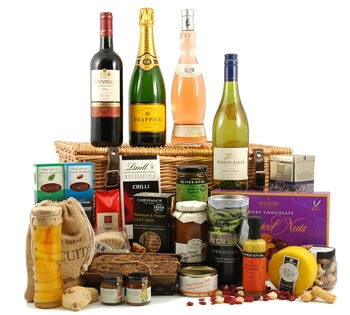 A huge collection of fine food and drink, beautifully presented in a timeless wicker hamper. To drink, this extravagant hamper features Taittinger Champagne, Ruby Reserve Port and trio fine Wines. The deep basket contains a pair of award-winning cheeses, venison pâté, fruits in syrup, chocolates, preserves, olives, biscuits and a huge amount more. The Royal is a great choice for a corporate gift as well as making an excellent luxury family hamper.
Our Price £250.00 inc VAT