"Pay Day Sale" 50% OFF + FREE DELIVERY SITE WIDE
PrinterPix Affiliate Program | NOV 2016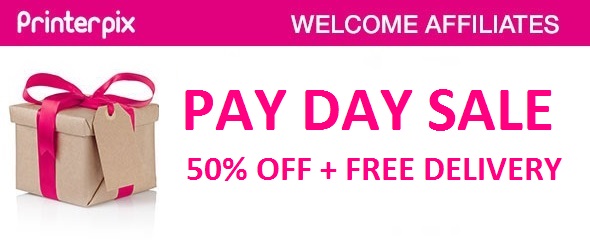 Dear Affiliates,
PrinterPix have released their Pay Day Sale with great savings on Personalised Gifts.
Your customers can save "50% OFF + FREE DELIVERY SITE WIDE" on more than 300 Personalised Gifts items.
Offer: 50% OFF + FREE DELIVERY SITE WIDE
Use Code: PayDaySale
Start: Nov 29th, 2016
Ends: Dec 12th, 2016
URL: http://www.printerpix.co.uk/PayDaySale/
Promote this amazing offer today to your visitors today.
Remember the more they are visible the higher the chance of a conversion.
Download Banners.
https://ui.awin.com/awin/affiliate/96349/merchant-profile/3993
So if you have any questions, comments or hysterical observations, please do not hesitate to contact your local Marketing Executive. We are here to help and guide you through the program!
Kindest Regards,
Salman Haider
Marketing Executive
Email: salman.haider@printerpix.co.uk | Skype: salmanbane
PrinterPix.co.uk, Unit 5 Stonefield Way, Ruislip, Middlesex. HA4 0JS.