Pauls Boutique London - New Program Management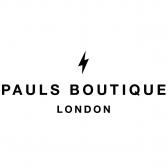 NEW PROGRAM MANAGEMENT 
Exciting news for all Paul's Boutique affiliates! The team here at Silverbean are pleased to announce that we are now managing this program. Please read on for all the contact information you will need plus current promotions and general program information.
WHAT YOU NEED TO KNOW...
The affiliate program is being managed by Louise James here at Silverbean, and she is on hand to offer you additional tools and to assist with anything you may need to make this partnership a success, including -
Fresh content on a regular basis (unique where required, please contact Louise if you wish to request this).
Regular newsletters to keep you up to date with all promotions and offers from Paul's Boutique.
Fantastic creatives for use onsite
You can earn up to 8% commission on a tiered commission structure, and with a high a conversion rate there really is a great scope for earnings by promoting Paul's Boutique onsite!
Need a product feed? You've got it - it's kept up to date and contains all of the Paul's Boutique online collection.
PLUS look out for upcoming news and promotions!
ABOUT PAUL'S BOUTIQUE...
Paul Slade, founder of Paul's Boutique, started making bespoke t-shirts for his friends and family, whilst  immersing himself in the music and fashion scene of the early 90's.
Influenced by American Pop Art artist, Jeff Koons, Paul created a limited run of t-shirts and hoodies under the name 'Slade', which he sold to seminal 90's boutique shops. Motivated by his love of vintage clothing, graffiti, 80's Hip Hop and Japanese street brands began developing a new project called Paul's Boutique, after the iconic Beastie Boy album.
Paul's Boutique bespoke products captured the eclectic spirit of London street style and quickly gained a cult following of fashionable young Londoners seeking bold, unapologetic designs. Paul established a regular pitch in West London's famous street market, Portobello Road, in 2000 - and stylists and retailers started to take notice as Paul was offered his own concession in Topshop, Oxford Circus.
The brand continued to grow, as international celebrities including Justin Timberlake and Paris Hilton were spotted wearing his designs.
Now the creative director of the company, Paul still designs with the London girl in mind: he is continually inspired by the diversity of styles, music, cultural influences and attitudes that exist in this exciting, fast moving city. The Paul's Boutique girl is cool, quirky, and confident with a great sense of fun. She is fashion conscious, but ultimately she is secure with her own individual style. She is prepared to stand out from the crowd.
Paul's Boutique is a brand with it's own unmistakable identity; selling uniquely designed pieces that attract celebrities and key influencers including style icons, Rita Ora, Pippa Middleton, Delilah, Jaime Winston and Mary Charteris. The brand has also featured in coveted titles like Style magazine, Grazia.com and Vogue.com.
There are so many amazing collections in the SS14 ranges. Check out these out HERE.
FREE STANDARD UK DELIVERY ON ALL ORDERS OVER £75
Paul's Boutique are offering all online customers FREE STANDARD UK delivery on all orders OVER £75.
FREE DELIVERY TEXT LINK:
<a href="http://www.awin1.com/cread.php?awinmid=4433&awinaffid=!!!id!!!&clickref=&p=http%3A%2F%2Fwww.pauls-boutique.com" onmouseover="self.status='http://www.pauls-boutique.com'; return true;" onmouseout="self.status=''; return true;" target="_new">Paul's Boutique are offering all online customers FREE STANDARD UK delivery on all orders OVER £75.</a>
DIRECT URL:
http://www.pauls-boutique.com

QUERIES/CONTACT US
If you have any queries, or would like to request anything please contact Louise James at Silverbean, and she will be happy to help:
email: paulsboutique@silverbean.com
telephone: +44 (0) 191 4061200
follow us on twitter - @sbnaffiliates
In Association with Paul's Boutique's Exclusive Affiliate Partners Agency.
Tags: handbags, new program