Paperchase New Collections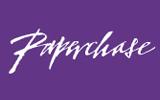 Dear Affiliates
Holiday season is in full swing at Paperchase - we've just launched our latest Travel collections.
Check out our latest travel collections, curated especially for Kids & Adults.
Shop Travel Collection Adults >
We've also, uploaded lovely new banners if you would like to promote these collections.
P.S. We've had a clear out and removed the following banners: National Stationery Week, Get Organised, Snackpackers, Spironauts
Happy promoting!
If you have any questions, please email affiliates@paperchase.co.uk
Thanks
Paperchase x
Tags: paperchase, travel