Paperchase: 10% Off £30 Or More Orders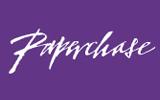 Dear Affiliates,
Happy Friday!
A treat from Paperchase; we've launched an exclusive affiliate promotion:
Offer: 10% off when you spend £30 or more
Dates: Friday 7th November – Thursday 13th November 2014
Code name: XMASPC10
This is exclusively for affiliates so please promote as heavily as you can.
If there are any opportunities to push this with additional coverage then please get in touch as we are open to negotiating CPA increases and tenancy fees.
Contact Puja at affiliates@paperchase.co.uk for more information
Happy promoting!
Paperchase x