Pact Coffee Update: £1 offer for all publishers - limited time!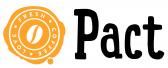 ​

Promote our £1 offer for a limited time

This month from now until the end of October publishers are able to offer new customers a £1 sign up offer. Pact Coffee is usually £6.95 so this 85% off. Customers just need to use code: COFFQUID at the checkout. *cashback sites are excluded

​
​

Banners

We can support this offer with some JPEG banners. Please get in touch in order to get the latest creative.

​
​

Email Creative

Drop us an email if you have an email database you want to target.

We can send you the latest optimised email creative we have available.

​
​

New Ideas

If you've got a great new business concept we'd love to get involved. As a start-up who is growing rapidly we understand and embrace new ideas.

Whether you have a website, app, or new technology we can be a part of get in touch.

We are always happy to discuss bespoke offers and commissions.

​
Pact Coffeewww.pactcoffee.com


Preferences   |

Unsubscribe