Pact Coffee: Programme Update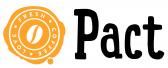 Dear Pact Coffee Partners,
We would like to apologise for any inconvenience but as of 1st August we are making changes to our commission structure. We are moving to give £2.50 for all sign ups you drive to Pact.
We hope moving to a single commission payment on first sale motivates you to drive traffic to Pact. This will give you payback quicker for the efforts you put into sending new customers our way.
As a thank you for the month of August we will pay £3 for all new customers you send to Pact.
 If you don't know all our coffees are lovingly grown by the world's best farmers. They're carefully hand-roasted and posted within 7 days https://www.pactcoffee.com/coffees
 If you have any creative requirements we deal with these bespokely and are happy to provide any tools you may require.
 Pact Programme Details:
 £2.50 commission on all valid first sales (£3 for August)

30 day cookie period

Fast validation approvals

Friendly dedicated affiliate team

Exclusive promotions and content available.

Commission increases available for value exposure.
If you aren't on our programme and want to feature our fast growing brand please sign up here.
Pact Gift Bundles:
 We offer a variety of gift bundles that include coffee makers of various shapes and sizes. Prices for bundles including coffee equipment range from £29.95 - £54.95. There are also coffee only bundles, which start at £20.85.
 The commission for these packages will be 10% for each sale made. Publishers who wish to run a gifting promotion are asked to contact us and we will supply creative material and copy.
If you have any questions and would like to run any bespoke offers or campaigns please get in touch @ tim.james@pactcoffee.com
And.....Look out for us:
On London Tube Network now and on National Television advertising in August. If you would like to replicate any of the offers we are running via these campaigns you will need unique codes so please get in touch.
Tim James
Head Barista @ Pact Performance Marketing 
tim.james@pactcoffee.com