Optimus PM Now Managing PersonalNOVEL Programme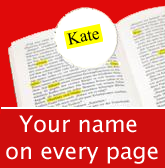 PersonalNOVEL Affiliate Newsletter


Optimus PM Now Managing PersonalNOVEL Programme

Optimus Performance Marketing are pleased to announce that from today we will be managing the PersonalNOVEL Affiliate Programme. For more information and sign-up links please see below;​

About Us:-
PersonalNOVEL offers individually customised books and novels starring you, your friends and family or whoever you want, making them the perfect tailor-made gifts. You can personalise names, appearance, favourite perfume and many more features! Make your gift even more special by adding a personal dedication, an individual subtitle or your personal photo on the cover. Are you still looking for the perfect gift for a loved one? We have exactly what you need! Your personalised book will be a truly unique and individual gift.

Benefits of promoting PersonalNOVEL: -

Largest selection of customisable books worldwide
Tailor-made and unique product (personalise text, font, subtitle and cover)
Top quality and great value for money
Regular promotions for customers and affiliates
Attractive commission structure
Personalised products – very low cancellation rate
Dedicated and personal affiliate support

Commission:-
The PersonalNOVEL commission structure is as follows:-
10 % - 0 - 10 Sales Per Month
12% - 11 - 20 Sales Per Month
15% - 21+ Sales Per Month

120*60


125*125


PPC Policy:-
Please note sending traffic directly to the merchant's site is allowed, as is using the merchant's brand name in the display URL, but refrain from using the merchant's brand name (PersonalNOVEL), variations, misspellings or derivates as a keyword or part of a keyphrase on any search engine and within the ad title and ad description. 
If you are promoting this merchant via PPC activity please add the merchant's brand name as a negative keyword.

Voucher Code Policy:-
Please be aware that affiliates should only promote voucher codes, which have been provided by PersonalNOVEL, Optimus Performance Marketing or Affiliate Window. We reserve the right to decline any sales using voucher codes which haven't been provided the before mentioned. The continued use of unauthorized voucher codes can result in the termination of the partnership.