Olympic Chocolates From Chocolate Trading Company
This week, Chocolate Trading Company brings you a collection of Olympic chocolates & gifts to celebrate the London 2012 Olympics. Achieve glory with chocolates including the Olympic chocolate neapolitans through to Olympic chocolate medals and Union Jack chocolate gift boxes. Whatever your requirement we are sure to have all sorts of Olympic themed chocolates to suit.
Also, don't forget that there are only a couple of days remaining for you to use the code CTC8PER, to save 8% off everything. So make sure you take advantage of this code.
Contents:
Olympic Chocolates
Voucher Code
Olympic Chocolates
To see the entire Olympic chocolate collection, click here.
Olympic Chocolate Neapolitans


Ideal for all Olympic celebrations at home or work, themed events, for retail or as promotional giveaways.
Our Price - Bag Of 8 £2.65
Our Price - Bag Of 50 £14.95
Our Price - Bulk Case Of 200 £55.95
Olympic Chocolate Coins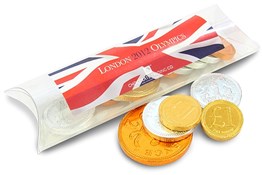 - Ideal for Olympic themed events and corporate gifts.
- Contains a mix of 2p, 5p and £1 chocolate coins representing British coins from this celebratory year.
- Made from high quality milk chocolate.
Our Price £2.45
Olympic Net Of Chocolate Coins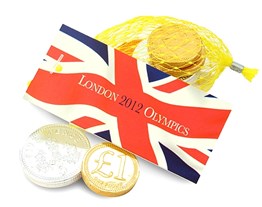 - Made from high quality milk chocolate.
- Containing a mix of Victorian British chocolate coins in gold foils (not sterling as the image shows).
- Ideal for all celebrations, themed events, retail or as promotional giveaways.
Our Price £0.70
Olympic Chocolate Medal Box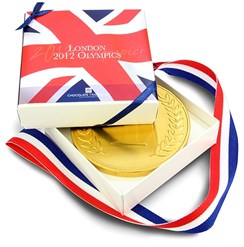 A gold foiled, 100ml chocolate medal made from high quality milk chocolate, bearing a No.1 emboss on one side with attached red, white and blue ribbon. Presented within a ribboned gift box for gift giving.
Our Price £5.95
Charbonnel et Walker - Union Jack Selection Box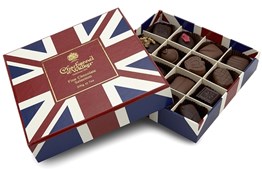 A selection of milk and dark chocolates from Charbonnel et Walker within this striking Union Jack designed gift box.
Our Price £12.46
Charbonnel et Walker Union Jack Heart, Chocolate Truffles Gift Box


Charbonnel et Walker are flying the British flag with this attractive, heart shaped gift box. Containing 3, cocoa dusted, milk chocolate truffles.
Our Price £3.95
100mm Bronze Chocolate Medal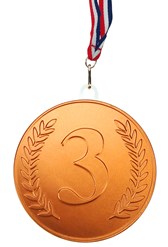 Our chocolate medals provide a fun reward for friends, family or business use such as staff incentives, and corporate events with a light hearted approach to awarding staff and colleagues. Chocolate medals are also ideal for sporting event awards and of course for the London 2012 Olympics.
Our Price - Single medal £2.25
Our Price - Bulk Case Of 20 £42.95
100mm Silver Chocolate Medal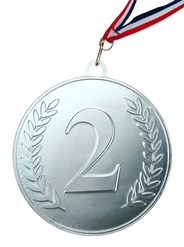 Our chocolate medals provide a fun reward for friends, family or business use such as staff incentives or corporate events with a light hearted approach to awarding staff and colleagues. Chocolate medals are also ideal for sporting event awards and of course for the London 2012 Olympics.
This 100mm silver medal is made from high quality milk chocolate and encapsulated in silver foil with a number two embossed on one side for second place.
Our Price - Single Medal £2.25
Our Price - Bulk Case Of 20 £42.95
100mm Gold Chocolate Medal


Our chocolate medals provide a fun reward for friends, family or business use, such as staff incentives or corporate events with a light hearted approach. Chocolate medals are also ideal for sporting event awards and of course for the London 2012 Olympics.
The 100mm chocolate medal is made from high quality milk chocolate and encapsulated in gold foil with a number one embossed on one side.
Our Price - Single Medal £2.25
Our Price - Bulk Case Of 20 £42.95
75mm Chocolate Medal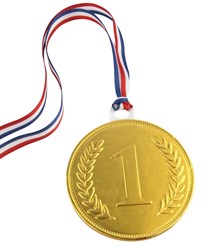 Our chocolate medals provide a fun reward for friends, family or business use, such as staff incentives or corporate events with a light hearted approach. Chocolate medals are also ideal for sporting event awards and of course for the London 2012 Olympics.
Our Price - Single Medal £1.20
Our Price - Bulk Case Of 24 Medals £26.95
Voucher Code
Code - CTC8PER
Promotion - 8% off Everything
Expires - 06-07-2012