Ollie & Nic - Up To 50% Off!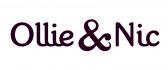 Hi,
I'd like to take this opportunity to introduce myself. I'm the Online Marketing Manager here at Ollie & Nic and will be taking over our affiliate account as of Friday. I'm very much look forward to working with you to promote the Ollie & Nic brand through your platform.
Yesterday evening we launched our Summer Sale and have put a new voucher code for the sale on Affiliate Window platform which will direct your visitors through to our sale where they can receive up to 50% off! This voucher will be valid until 31st August.


Here are the offer details:
"Up to 50% off Bags, Purses, Jewellery & Accessories in the Ollie & Nic Summer Sale!"
Valid until 31st August
There are also new banners are live on the Affiliate Window platform but if you need anything specific please do get in touch.
Many thanks,
Becky
Tags: accessories, bags, fashion, handbags, jewellery, purses, sale, womens handbags