---
Non-Alcoholic Hampers From Hampergifts.co.uk
Hampergifts.co.uk are delighted to bring you a selection of Non-Alcoholic Hampers this week. There is a beautiful range for you to enjoy that includes no alchohol but plenty of delicious treats.
See our selection below or take a look here for the full collection.
Don't forget to use voucher code MAY5HAMP for 5% off your order this month, expiring 31st May 2016.
A great gift for family, friends or even just sharing round an office. Our smart Muffins, Cookies & Flapjacks Selection is brimming with seven delicious large American-style muffins, three flapjacks in mouth watering flavours, not to mention the scrumptious chocolate & hazelnut cookies! Arriving in a stylish tray gift wrapped with ribbon, this is a unique treat that can be shared by everyone.

Our Price £19.99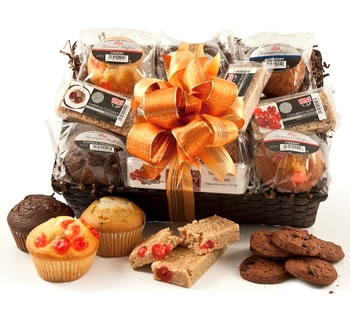 Anytime's a good time to take a break with a cuppa! Our tea and coffee hamper contains a subtly-flavoured Assam Tea and a full-bodied fresh ground breakfast coffee. We've also included a range of perfect tea-time (or coffee-time) snacks! You'll have trouble deciding between cherry & coconut and honey flapjacks, an indulgent double chocolate muffin and the incredibly tasty cookies. Or for a smaller snack, how about the delicious chocolate-coated cashews? All these items come carefully arranged in a classy box with magnetic fastener, which you can reuse again and again.

Our Price £23.99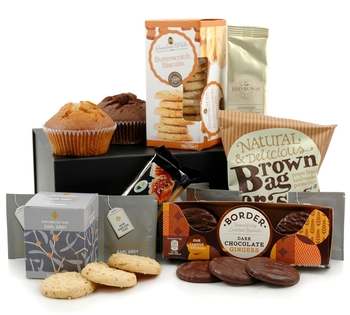 This beautiful chocolate hamper contains a mix of well-known and boutique chocolate treats. Dip into cappuccino chocolate sticks, or enjoy the white chocolate cookies, Swiss truffles, caramels, chocolate gingers and the unique chocolate stones. Although not just for chocoholics, this gift will certainly keep them happy! Also featuring an adorable baby teddy bear our excellent value hamper is crammed full of delicious items presented in an attractive basket & gift wrapped with ribbon.

Our Price £26.99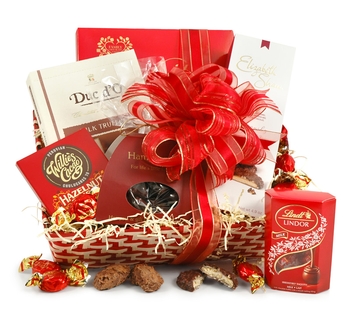 This smart hamper is bursting with goodies all featuring a hint of fruity goodness. Discover delicious lemon drizzle cookies, premium Italian orange chocolate sticks or tasty strawberry extra jam. And after the cherry flake sweets and cranberry flapjack has been devoured, the pair of all natural fruit juices are sure to quench your thirst. Just perfect for enjoying in the garden or park.

Our Price £32.70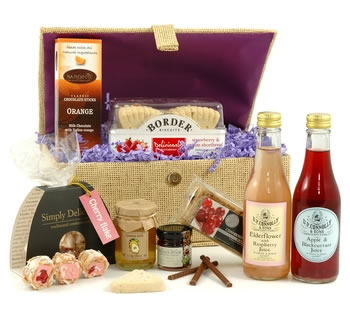 You've never had cookies and cake like this before! Five gorgeous stacked boxes open to reveal a tempting selection of cookies, biscuits and cakes. Delving into the boxes you will discover pair of delicious Flapjacks, a large family sized Fruit Cake, Chocolate & Hazelnut Cookies, Honey Biscuits and more. The lucky recipient of this tower won't have any idea what's inside! If you like to grab attention when you give a food gift, our pile of cookies & cakes should do the trick.

Our Price £33.50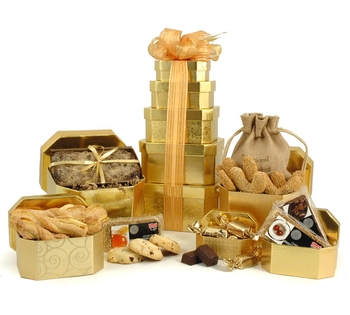 Demolishing this elaborate construction will be a special treat! Each of the striking, reusable burgundy & silver boxes is filled to the brim with indulgences like Honey Roasted Nuts, Hazelnut Praline Pieces, Sugared Almonds and more. This stylish gift is beautifully finished with a hand-tied ribbon - ideal for chocoholics, chocolate lovers, and people who just like a chocolate surprise now and again.

Our Price £32.50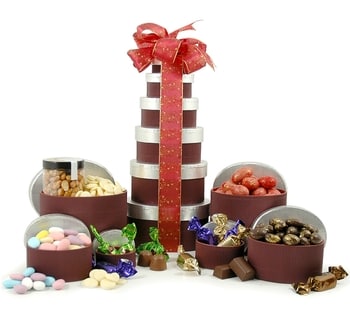 A true pamper hamper filled with everything you need to indulge. The rich blend of plum and cream makes this an absolute treat. This generous collection of lotions and potions, accompanied by an array of bathing accessories and a superb wooden bowl puts this gift on the very top of any gift list.

Our Price £37.50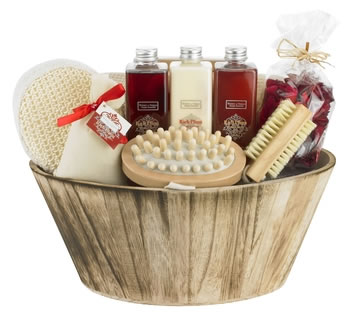 This delightful hamper may be small in measurements but it is bursting at the seams with all of your favourite classic and retro sweets. We have managed to force an amazing 26 different varieties in for your sweet toothed delight. The hamper will then make a lovely storage box for more sweets or anything else you fancy.

Our Price £24.95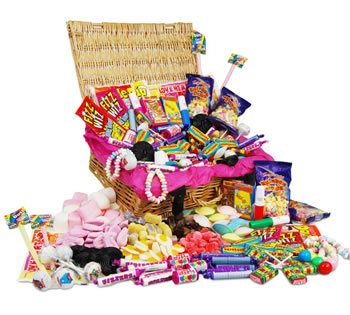 150 years of chocolate excellence is packed into one mouth watering hamper. The Lindt Gift Basket is filled with the finest products in the Lindt Lindor range. Containing a supreme collection of Lindt's famous Swiss chocolates, including milk chocolate truffles, assorted pralines, chocolate thins and more. Presented in an attractive hand made wicker basket and gift wrapped with ribbon.

Our Price £54.99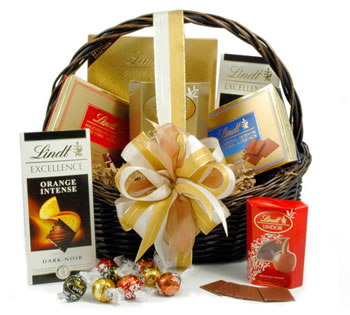 This gorgeous antique-wash chiller hamper is crammed with superb summer treats. The bright red straps secure two sets of cutlery, and a pair of ceramic plates. And you'll need them to dig into some classic goodies. We've paired a sublime, award winning Mature Cheddar with Cranberries with a fantastic Cheese Makers pickle. There are cranberry & pumpkin biscuits, parmesan oatcakes and unusual yoghurt coated nuts to enjoy, along with refreshing fruits in violet syrup. And the handy zipped chilled compartment will keep the pure pressed Blackcurrant & Apple Juice at just the perfect temperature.

Our Price £80.00